Russian warships set sail to Mediterranean amid possible Syria evacuation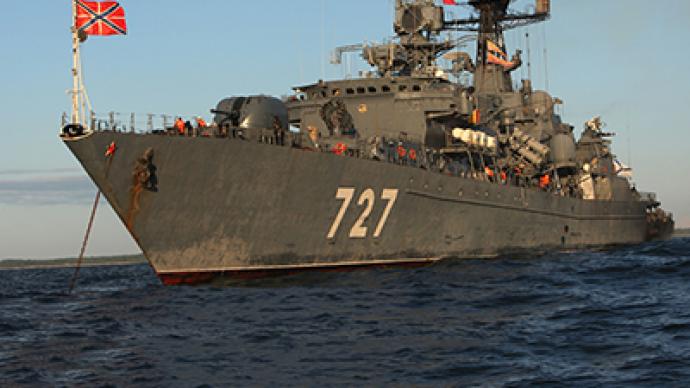 The Russian Navy has sent five ships to the Mediterranean Sea to replace the region's existing fleet. The move comes after the foreign ministry said it may call for the evacuation of Russian citizens in Syria if the government in Damascus falls.
Three warships and two support ships of the Russian Baltic Fleet are set to join the Russian naval forces in the Mediterranean.The Neustrashimyy-class frigate Yaroslav Mudri and landing ships Kaliningrad and Aleksandr Shabalin, accompanied by a towboat and a tanker ship, have set sail from their base in Baltiysk, the defense ministry announced on Tuesday. Their mission includes exercises in air defense, anti-ship warfare and anti-submarine warfare, the Navy statement said.The vessels will replace the ships of the Baltic Fleet, which have been patrolling the Eastern Mediterranean since November.The Russian military did not elaborate on whether the fleet would visit the Syrian port of Tartus, where the Russian Navy maintains a support base.The warships are being deployed as a contingency for the possible evacuation of Russian citizens from Syria, a source in the Navy told Interfax news agency. The vessels could transport Russian nationals from the warzone to Russia's Black Sea ports, the source said.Last week, a senior foreign ministry official confirmed that Russia has prepared a plan to evacuate its citizens from Syria, which will be implemented if the situation there deteriorates further. The plan covers not only the staff of the Russian embassy in Damascus, but also several thousand Russian civilians living in the country, Deputy Foreign Minister Mikhail Bogdanov said.Russian citizens may be evacuated from Syria if Damascus loses more territory to the rebel fighters. The comments were interpreted by Washington as a sign of Russia changing its position on the Syrian conflict, but Moscow quickly denied this claim.
You can share this story on social media: