Nationalist rallies and dance festivals: Russia goes diverse for National Unity Day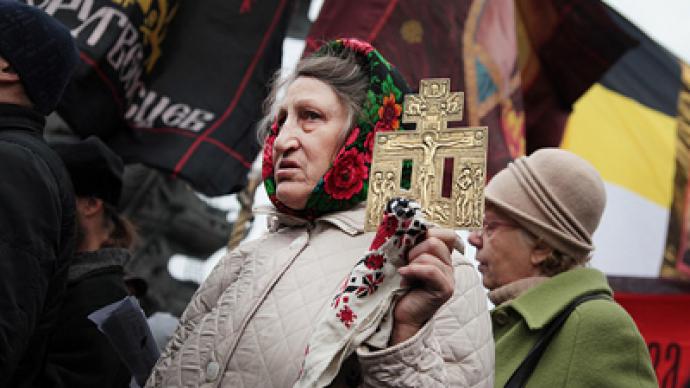 Throughout Russia a wide range of events have taken place to celebrate its newest holiday – National Unity Day. Nationalists threw a number of marches, while Moscow's youth engaged in dance activities and donating blood.
The main nationalist event – the 'Russian March' in Moscow gathered some 20,000 demonstrators, the organizers claim, though police say some 6,000 attended the event. The participants chanted their usual slogans "Russia is for Russians" and such and were carrying banners, Imperial flags and icons. Most of the banners were of nationalist nature calling for migrants to return to their home countries. However, also gaining notice were some lesser held beliefs, such as calling to remove Lenin from his mausoleum resting place.
Whilst the Moscow march went peacefully, in Saint Petersburg police detained some 70 nationalists who tried to stage an unsanctioned rally in the city center.Rather small nationalist marches took place in a number of cities throughout Russia including Saratov, Perm, Ulyanovsk, Cheboksary and Murmansk. In Nizhny Novgorod the "Russian March" was turned into "March of the Regions" with a main slogan – "Stop feeding Moscow!"
But not everyone sees National Unity Day as an opportunity to vent nationalist rhetoric. In the center of Moscow a festival called "Energy of unity" gathered youths interested in dance and extreme sports. The area was also equipped with mobile donor stations, where young people could donate blood.Religious processions took place in several Russian cities to celebrate the day, with priests leading people carrying icons.
The National Unity Day was first marked in 2005. The holiday was established to celebrate the liberation of the country from Polish and Lithuanian invaders in the 17th century, when Russian people united under the leadership of Prince Dmitry Pozharsky and militia leader Kozma Minin.The two are now regarded as national heroes and their monument is situated at the Red Square opposite St. Basil`s Cathedral.Russia's President Vladimir Putin laid flowers at the monument to commemorate the Day of Unity and 400 years since their historic deeds. The president was joined by the representatives of most numerous religions in Moscow: Patriarch Kirill, leader of the country's Orthodox Church, the head of the Armenian Orthodox Church, Ezras, Russia's Chief Rabbi Berl Lazar and Russia's Supreme Mufti Talgat Tadzhuddin.
You can share this story on social media: