Russia may partially lift ban on EU vegetables
Published time: 7 Jun, 2011 09:32
Edited time: 7 Jun, 2011 15:08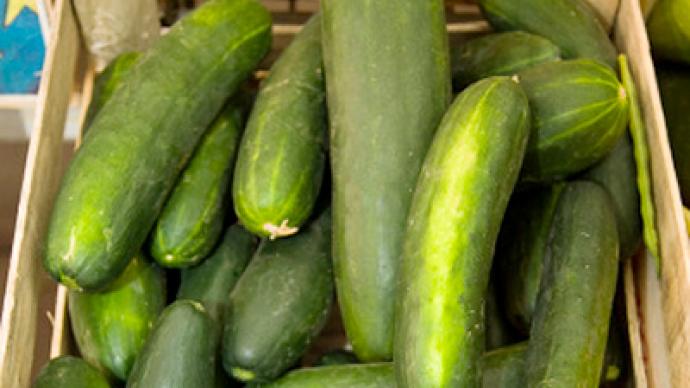 Russia may lift the ban on vegetables produced in Denmark as the two countries have made significant progress on alleviating Moscow's concerns over the E.Coli outbreak in Europe. The source of the infection remains unclear.
Russian and European sanitary officials met in Moscow on Tuesday to discuss the gut bacteria epidemic and the ban, which Russia imposed last Thursday.

"I mostly judge the meeting positive. Our positions came closer," chief sanitary inspector Gennady Onishchenko said after the talks.

European researchers will soon hand over to their Russian colleagues a sample of the deadly E.Coli strain, which so far has infected over 2,000 people and killed 22. It will help the medics to be better prepared to fight the microbe should it come to Russia.

Onishchenko said several European countries are in dialogue with Russia over the current situation. Denmark in particular was swift to meet Moscow's concerns.

"We can make a positive decision should they provide us with some extra data," the Russian official said.

Meanwhile, the European Commission is discussing on Tuesday the outbreak and Russia's move to restrict vegetable import. Commissioner for Health and Consumer Policy John Dalli reiterated that the EU believes the ban to be disproportionate, since the outbreak is localized.

He also admitted that the infection is spreading and now affects 11 countries in Europe, after patients have been diagnosed with it in Luxemburg.

Dalli said the commission believes it necessary to improve the European system for food safety control.

Earlier, both Russian and European officials said they would like to settle their differences over the ban before the Russia-EU summit launches on Friday this week.

The outbreak of deadly E.Coli was first reported in early May. Most of the people affected are German. Spanish cucumbers and then German sprouts were suspected to be the source of the infection, but neither theory proved to be right.
The number of people suffering from the infection has risen by 94 on Tuesday, the Robert Koch Institute reported. The number is lower than in previous days, which may indicate that the epidemic has passed its peak.