Fire, smoke grenades, clashes: Moscow derby goes mad (PHOTOS)
Published time: 27 Sep, 2012 19:32
Edited time: 27 Sep, 2012 23:32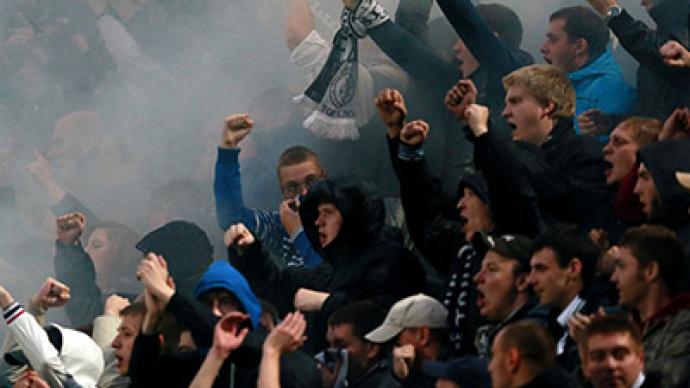 Twenty-six arrests, swarms of riot police, dense smoke obscuring locals' vision. It's not an anti-austerity protest in Athens – it's Russian football fans rallying at a home match in Moscow, ultimately forcing the game to be canceled.
­The 80-year rivalry between the Dynamo and Torpedo clubs routinely broke out before the match even started. Some 90 hooligans clashed outside Streltsov Stadium in Central Moscow before riot police forced the mobs apart. No injuries were reported that time, but around 20 arrests were made.

It was just a warm-up for what sports commentators later called one of "the most appalling" and "unprecedented" matches in Russia's modern-day derby.

Torpedo fans started small: hundreds of voices joined in lobbing a litany of insults well beyond Russia's limits of publicly acceptable speech at the police cordoning them off the rest of the stadium.
Fire fighter extinguishes a flare during a match of the 2012/2013 Russian Cup round of 32, Torpedo (Moscow) and Dynamo (Moscow)(RIA Novosti / Anton Denisov)
Barely 30 minutes into the game, a firebomb landed on the pitch rim sent from the same section. This was followed by a volley of smoke grenades and firecrackers, as well as a torrent of verbal abuse hurled at both Dynamo fans and the home team's management.

"Torpedo management – out!" the fans were shouting. Club President Aleksandr Tukmanov has long been out of favor with the fans. For the match, which took place Wednesday, Tukmanov ordered banners and flags be confiscated from fans' tribunes to prevent unrest. At the same time, guest tribunes were allowed free admission.

The referee let the match, which was part of the Russian Cup series, resume just once more as team captains tried to call the fans to order. As the game was announced to be canceled, the pitch was barely visible through clouds of smoke with sporadic fires burning.
Dynamo fans during a match of the 2012/2013 Russian Cup round of 32, Torpedo (Moscow) and Dynamo (Moscow)(RIA Novosti / Anton Denisov)
The stadium remained packed for around an hour more, with police not revealing much enthusiasm to start removing people. Regular spectators, unassociated with the fan movement, witnessed a local apocalypse: smoke, fires, frustration, disorientation – and no football.

At least six more people were detained. But while the worst the arrested fans faced were a 500 ruble (less than $20) fine for inciting a fight, the Russian Football Federation is weighing harsher penalties for the Torpedo and Dynamo teams. The harshest sanction to punish the clubs for fan misconduct would likely be a cancelation of the results of the match, players said. When the game was prematurely ended, Dynamo was leading 2:1.

New Russian football?
While Russian football clubs sign astoundingly expensive contracts with foreign players, hopes for a beautiful game die quickly.

Russian police say football fans are getting more aggressive. Over 2,500 fans have been detained and charged with administrative offenses since the beginning of this year. Fireworks are brought to stadiums so often they could soon turn into a common occurrence. Clashes are getting larger and more violent – in and outside Russia.

After brawls broke out in Poland this June, the Union of European Football Associations (UEFA) threatened to take six points from Russia's national team. The penalty for "improper conduct" by Russian fans at the Euro 2012 tournament was weighed in after they assaulted Polish stewards and threw flares on the pitch.
A Russian soccer fan (R) fights with a Polish supporter in Warsaw June 12, 2012. Russia will play Poland in their Euro 2012 Group A soccer tournament on Tuesday. (Reuters / Peter Andrews)
The fans' logic is at times hard to pursue. Brazilian star Roberto Carlos, enrolling with Anzhi Makhachkala, was hit with bananas twice during his career in Russia. In March, the stunt was repeated for Congolese player Christopher Samba right after he joined the same club.

Fans argue their behavior should be referred to club managements who cannot work properly with their followers, nor are heartily interested in properly administrating games and events. But the question remains: whose show is Russian football now, when fans' adrenaline starts outweighing their team's play?
Russia national team's fans celebrate during EURO 2012 Group B qualifying football match Russia vs Andorra in Moscow on October 11, 2011. (AFP Photo / Natalia Kolesnikova)
Anzhi defender Roberto Carlos before the 2-round match of the Russian Football Championship between Zenit (St. Petersburg) and Anzhi (Makhachkala). (RIA Novosti / Alexey Danichev)
Fans clash before the match (RIA Novosti)