Tough topics for Russia-EU summit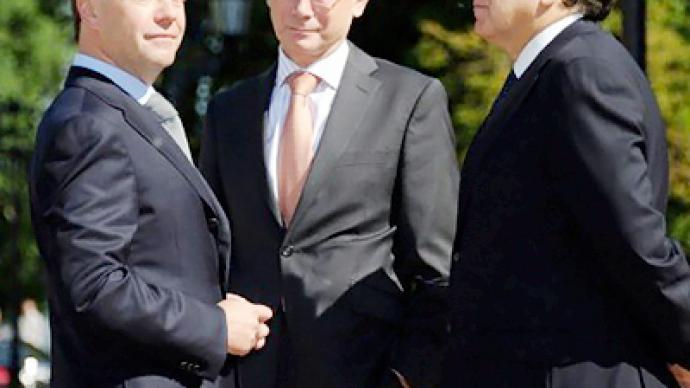 The turmoil in the Middle East, Moscow's ban on EU vegetables and Russia's membership in the WTO are among key issues to be discussed by EU and Russian leaders as a traditional two-day Russia-EU summit kicks off in Nizhny Novgorod in central Russia.
Russia's President Dmitry Medvedev, President of the European Council Herman Van Rompuy and European Commission Chairman Jose Manuel Barroso will start negotiations on June 10 – the second and the major day of the summit. The first day involves a business dinner and walks through the city. The focus of the summit is expected to be the situation in the Arab world and Libya in particular.  Russia is keen to make its mark as a mediator. It sent presidential envoy Mikhail Margelov trying to "build a bridge" between the two sides – Gaddafi controlled Tripoli and the rebel stronghold Benghazi. Another key issue for both Russia and the EU is the deadly E. coli strain which has killed 27 people in Europe. Russia's ban on vegetable imports from the EU angered Brussels. European officials claimed the measure was against the WTO's policy. Russia maintains, however, that the ban will stay in place until the EU finds the source of the infection.Russia's accession to the WTO is also to be discussed by leaders. Russia has been in membership talks with the 153-nation WTO for 17 years and remains the only major economy still outside the organization."I'm confident that our talks will help Russia to walk the final mile towards WTO accession, which is still possible this year," Barroso said on Wednesday.European security is another priority for the EU and Russian leaders. There are remaining arguments concerning the anti-missile defense system between both sides. NATO says that the new system does not pose a threat to Russia, but Russia argues it will neutralize its defensive potential. Proposals for a visa-free regime between Russia and the EU are also on the list of topics to be discussed.  "As yet, they [Europeans] are not ready for a political decision to lift visa requirements for Russia," Russia's Presidential Aide Sergey Prikhodko previously told reporters. "The strategic character of relations between Russia and the EU requires more trust between us, including that in the visa-free sphere," he stressed.At the moment, Moscow and Brussels are contemplating multi-entry five-year visas.On the sidelines of the summit, President Dmitry Medvedev will also be meeting separately with EU leaders.
Denis Daniilidis, spokesman for the EU delegation to Moscow, believes the views of Russia and the EU on many issues have become closer. The successful cooperation and mutual understanding is especially noticeable in the G8 and G20 framework, says Daniilidis.Among the spokesmans concerns is Russia's refusal to import EU vegetables. Daniilidis did not confirm a breakthrough on this at the informal dinner on Thursday."Breakthrough is probably not the word that I would use, but I would hope for. We still have negotiations right now. We hope that these negotiations will confirm the excellent atmosphere that prevailed during yesterday's informal dinner, where we had the impression that there is good will from both sides," said Daniilidis. "We have been saying and we repeat our basic position, which is that matters of public health and safety are extremely important for us. Since the outbreak of E.coli we have shared the information with the Russian authorities. But we believe that a total ban of all the vegetables coming from all the countries of the EU is disproportionate and not based on the scientific data."
You can share this story on social media: