Russia calls Georgia missile incident 'provocation'
Published time: 21 Aug, 2007 17:28
Edited time: 21 Aug, 2007 21:28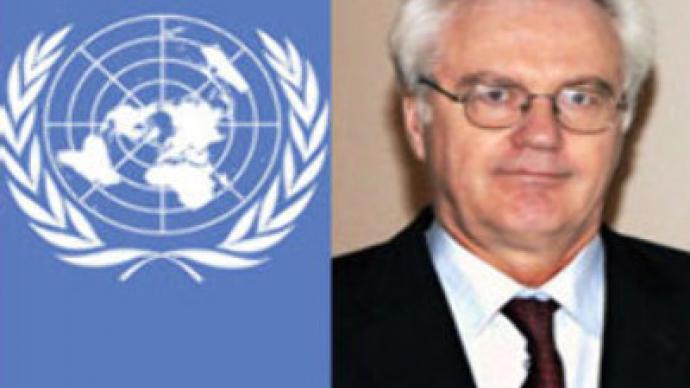 Russia's ambassador to the United Nations, Vitaly Churkin, has given a detailed account of why Russia could not have fired a missile on Georgian territory on August 6. He has claimed the incident was an elaborate ploy by Georgia to discredit Russia and as
He said the physics of the missile's flight means it could not have been fired from just five kilometres' distance, land in a field and still remain unexploded.

"On the whole the information and the facts gathered by Russian experts during their work in Georgia on August 16 and 17 and the behaviour of our Georgian colleagues make it possible to state with full confidence that the incident of August 6 was a deliberate provocation organised and carried out by those in Georgia who are interested in aggravating the situation," Vitaly Churkin stated.

Churkin added that Georgia could have been in possession of this type of missiles as they were stored in the country during Soviet times.

"During the Soviet period several air force regiments were based in Georgia. This kind of missile was available in two of them. Warehouses with air weapons were built near those airfields storing over a hundred KH-58 missiles. Besides, on the territory of Georgia there was the central warehouse with about 1,000 of such missiles among other weapons. All this equipment remained in Georgia until December 1992, thus the missile could come from the Soviet arsenal or find its way to Georgia through a different channel," Russia's ambassador to the UN noted.
When we proposed to the Russian side a dialogue, to create a group of experts, we did not need to establish the fact of a rocket strike because we already know it took place. We were hoping to get an answer to a question why this strike was conducted? This is a fundamental question, which Russia needs to be asked not only by Georgia but by the world as a whole – why?
Gela Bezhuashvili, Georgia's Foreign Minister
Georgia insists Russia did send a military plane into Georgian territory, but the question how and why the rocket was fired is still unanswered.
Russia Today's political commentator Peter Lavelle says Georgia is using the incident to attract the attention of the international community to the region.
"Russia has just won the 2014 Olympic Games bid which will take place in Sochi. The last thing they want in this region is some kind of controversy like this, especially a military one. Now we all know what it is all about: it is about the frozen conflicts in South Ossetia and Abkhazia. And we all know that Georgia has an election cycle coming up, and Georgia's President Mikhail Saakashvili, in my humble opinion, is looking for score points, looking for the international community come to his aid," Peter Lavelle commented.
To listen to the full statement by Vitaly Churkin please follow the link.