Across Russia on a bicycle...at 70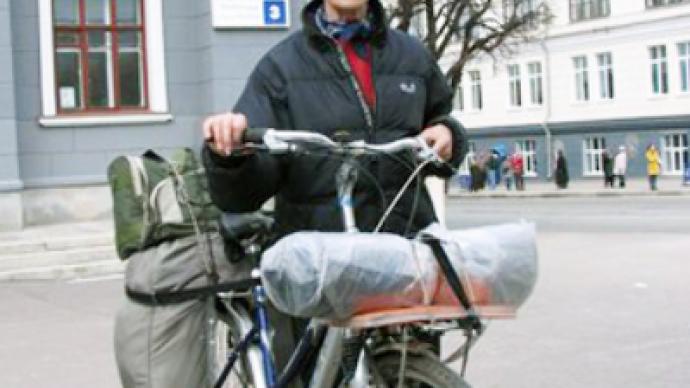 It's never too late to change your life and start an adventure. A pensioner from the city of Tver has crossed Russia on a bicycle, covering 8,000 kilometers in three months.
The 70-year-old Yulia Mikhailyuk took off from her home town in Central Russia to finish in Petropavlovsk-Kamchatsky on the Kamchatka peninsula in the Far East.
"Everybody says I'd better stay with my grandsons and knit socks for them… but my daughters-in-law think the opposite. They say: 'Yulia Ivanovna, we're so lucky to have such a good mother like you'," Yulia Mikhailyuk told Russian First Channel.
She always travels light-handed, with a tent and a small backlog of food. The adventurer has no problem passing the night in the woods or in the fields if she fails to find shelter. An experience of being a physical education teacher in school helps her cope with all the hardships.
The brave woman created her own rules, which she carefully follows. According to them, she must cover at least 150 kilometers a day and always travel alone.
"I journey for 14 years now and I never regretted that I am doing it on my own," she said to NTV channel.
The Petropavlovsk-Kamchatsky citizens greeted Yulia Mikhailyuk like a hero, with flowers and gifts. A dinner was given in her honor. She didn't miss a chance to see the Kamchatka's sights either, including the world famous Valley of Geysers.
For her return home she has chosen a more traditional way of traveling. The woman bought a plane ticket to Khabarovsk and will then take a train from there.
Yulia Mikhailyuk is now included into Russia's Book of Records as the oldest cyclist in the country. This voyage was not her first, as she covered 20,000 kilometers from Tver to Yuzhno-Sakhalinsk a couple of years ago.
And the adventurer is not planning to stop any time soon as the bicycle tour around the world is next on the agenda. She plans to start the greatest journey of her life next year.
You can share this story on social media: