RT recalls 2012: Europe cracks amid austerity rage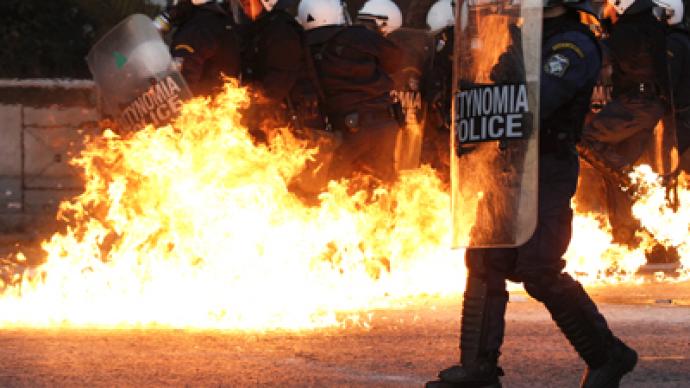 With 2013 knocking on the door, RT recalls the events that made 2012. We countdown to the New Year with the top stories of the past 12 months, witnessed and reported by RT news team.
­Massive protests have been shaking Europe all year with tens of thousands of people hitting the streets. RT has been looking closely at what's happening in crisis-gripped European Union. With people protesting against austerity cuts and reduced budgets, the world has seen severe clashes, clouds of tear gas and violence raging all across Europe.Throughout the year debt-ridden Greece has been the epicenter of Europe's most violent protests. Facing severe economic conditions and harsh austerity measures the Greeks were forced to take to the streets and stage massive general strikes. As tensions grow within the Greek society, far-right movements have been on the rise, with neo-Nazi Golden Dawn party gaining popularity in the country.
­Spain, the eurozone's fourth largest economy, has regularly seen thousands of people protesting, with many being arrested and injured.
­The country faces the highest unemployment rate in the entire eurozone and it's estimated that more than 400,000 families have lost their homes due to unpaid rent, since the start of Spain's financial crisis in 2007.
­Amid all the economic woes that Spain faces, its richest region – Catalonia – has seen an upsurge of separatism. The autonomous Spanish community, whose economy is bigger than the entirety of neighboring Portugal's, accounts for a fifth of Spanish output.
­Italy hasn't escaped austerity-related uproar and has seen some of the most violent protests, with clashes between the demonstrators and riot police rocking major cities.
­Thousands have also been regularly protesting in Portugal, voicing their anger over dire economic prospects. Portugal's austerity program, introduced last year, involves severe tax hikes and spending cuts and has resulted in joblessness for a record 15 percent of the population and forced the country into its worst recession since the 1970s.
­The anti-austerity protests came to a climax on November 14 when millions of people took to the streets in 23 countries across Europe to mark the European Day of Action and Solidarity. Many rallies ended with violent clashes with police.
You can share this story on social media: