RT correspondent wounded in Damascus suburb while filming in Syria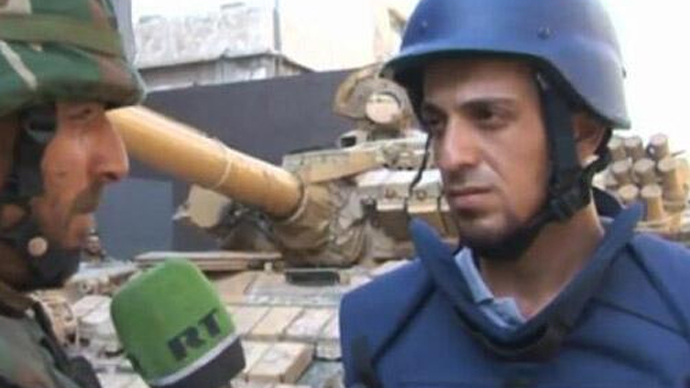 A member of RT's news crew has been wounded by mortar shell shrapnel while filming a Syrian army special operation in the strategic town of Daraya, near the capital Damascus.
Syrian journalist Ibrahim Issa has been working for RT along with Abu Talib Albouhaa, a correspondent for RT's Arabic sister channel, Rossiya Al-Yaum. Just after they arrived in Daraya and started filming, parts of a mortar shell - presumably fired from the rebel-controlled area – struck Issa.

The mortar shell reportedly hit the building, near where Syrian army troops were deployed and where RT's crew was working.

"Me and my colleague, Ibrahim Issa, went at dawn today (Sunday) to the area of eastern Ghouta to film reports, then we moved to Daraya to film from there," Ibrahim Issa said by phone from Syria. "While filming, my colleague Ibrahim Issa was slightly injured by shrapnel," he added.

He said sustained injuries to his neck, but is now feeling well.

There are also reports that several soldiers have been injured.
Daraya is mainly controlled by Syrian troops. However, there are parts of the town – especially those in close proximity to the military air base of Mazzeh – that are still held by the Free Syrian Army.  

The recent operation was targeted at locating rebels.

Meanwhile, Iran's FARS news agency reported that a Syrian army unit discovered a three hundred-meter-long tunnel in Daraya, which rebels have been using to transfer and store weapons and ammunition, according to an anonymous official. 
In January 2013 another RT Arabic team correspondent, Kamel Saqer, was injured in Daraya. He had been caught in crossfire in Syria while covering the army's operations outside the capital.

You can share this story on social media: