EU turns its back on gypsies, pushing them to crime for survival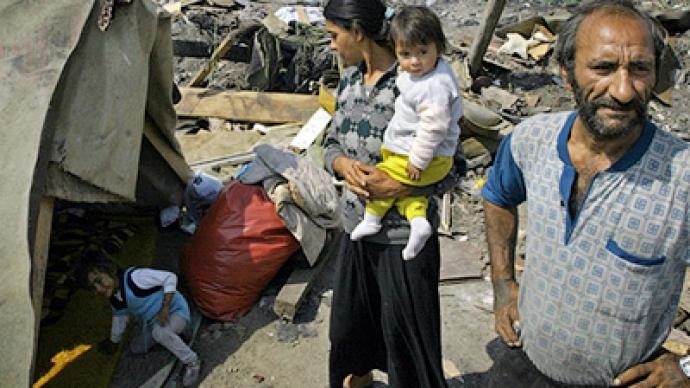 A crisis over the plight of Roma gypsies is spreading across the European Union, resulting in growing dissatisfaction from all sides.
Some EU countries blame the Roma for rising crime and are trying to tackle the problem by deporting them back to where they came from, making it worse.The mayor of one Bulgarian town had to tear down a block of flats, turned into a slum by Roma residents. Infested with rats, cockroaches and fleas, it was called "a health hazard" by authorities.It is possible that solutions like these could become common across Europe in the future. That people will be left on the streets does not worry Bulgarian authorities. Some gypsies had to move to a wasteland, where there is no shelter, healthcare, or education for the children. With winter approaching, they will be sleeping in the cold.Not surprisingly, the Roma are far from satisfied with their living conditions, and their anger is turning into accusations of discrimination. They wonder why the EU treats its citizens that way.Bulgaria is left to solve the gypsy problem on its own, believes Tsvetelin Kanchev, president of the Euroroma party."EU politicians bury their heads in the sand," he stated. France has sent tens of thousands of Roma back to Bulgaria. Sweden, Italy, Denmark and Germany had similar policies. The EU's Justice Commissioner said it reminded her of World War II.However, campaigners warn that most Roma sent back by France and other states cannot integrate, as there are not enough jobs for them in Bulgaria.As Roma gypsies are left with nothing but despair, they turn to crime as a way to feed their families. Those that can, go straight back to richer EU states. Member countries report the number of Roma offences is shooting up. This lawlessness is in turn pushing more and more people into angry, anti-gypsy groups. They claim that the Roma steal even train tracks, risking the lives of many people. Europe's 10 million Roma are the elephant in the corner. The EU community usually freezes them out, in all ways but one. With education opportunities limited, music remains one of their few paths to success.However, anti-gypsy groups claim that ethnic conflicts will surge until the EU learns to live and work with Roma, not just enjoy their music in the nightclubs.
You can share this story on social media: