Sirens in Jerusalem as Hamas rockets hit outskirts, blast felt in city center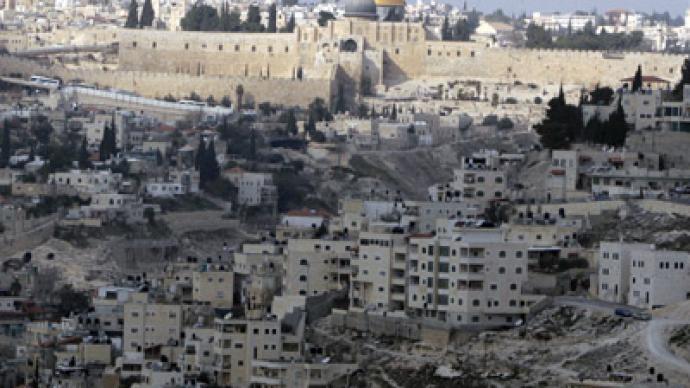 Palestinian militants have fired two rockets at Jerusalem, setting off warning sirens for the second time since Israel launched Operation Pillar of Defense in Gaza.
The sound of an explosion followed the wail of air raid sirens which were heard throughout the city. The Israeli Defense Force immediately tweeted that the  rocket went astray, hitting an open area in a Palestinian village.Israeli police reported a second rocket landed in an open area near Gush Ezion, a collection of Jewish settlements in the West Bank southeast of the city. No casualties have been reported, though AFP reports Palestinian emergency services were dispatched to the site of the first blast.RT's Paula Slier reported from Tel Aviv that Hamas has claimed responsibility for the Jerusalem rocket attacks. The militant group claims to have used  M75 rockets, which has a range of 75 kilometers.The attacks comes as UN chief Ban Ki-moon was set to arrive in Israel to help broker a truce in the ongoing conflict.Ki-moon, who has spent the last two days in Cairo, had been scheduled to hold talks in Jerusalem with Israeli Foreign Minister Avigdor Lieberman around the time of the attack.An AFP correspondent at Cairo airport said he had taken off at 10:40 GMT. US Secretary of State Hillary Clinton was set to travel to Jerusalem, Ramallah and Cairo on Tuesday "to consult on the situation in Gaza.""Her visits will build on American engagement with regional leaders over the past days – including intensive engagement by President Obama with Prime Minister Netanyahu and President Morsi – to support de-escalation of violence and a durable outcome that ends the rocket attacks on Israeli cities and towns and restores a broader calm," the US Department of State said in a statement.On Friday the Israeli military confirmed a rocket fired from inside Gaza struck outside Jerusalem, the first time the holy city has been targeted in over four decades.Friday's rocket attack set off air raid sirens in the holy city for the first time since the Gulf War, demonstrating that Hamas' military capability was greater than originally thought."We are sending a short and simple message: There is no security for any Zionist on any single inch of Palestine and we plan more surprises," Hamas spokesman Abu Obeida told AP following Friday's strike.