Twitter joke trial: UK man wins 'airport bomb threat' court battle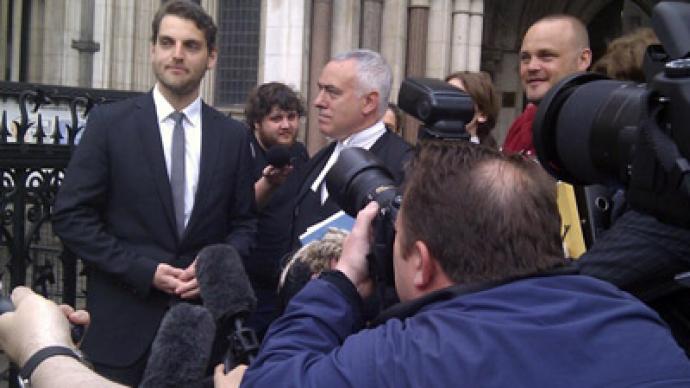 A man found guilty of sending a menacing tweet threatening to blow up Robin Hood Airport in South Yorkshire has won a challenge against his conviction in London's High Court.
Paul Chambers, 27, was found guilty in May last year of sending "menacing electronic communication".The episode in question happened in January 2010, when he was traveling from Doncaster to Belfast for a date with a woman he, ironically, had met via Twitter.Frustrated by the heavy snow at the time and a warning of possible closure of the airport, Paul Chambers tweeted to his internet belle: "@ Crazycolours: I was thinking that if it does then I had decided to resort to terrorism"."Crap! Robin Hood Airport is closed. You've got a week and a bit to get your shit together, otherwise I'm blowing the airport sky high!!" he tweeted some two hours later, after his fears were realized.Chambers, who had some 600 followers, said he never thought anyone would take his "silly joke" for real.A previous appeal was dismissed by a Crown Court judge in November 2010, who ruled the tweet was sufficiently menacing for the airport staff to report it.Chambers was prosecuted under the Communications Act 2003, which prohibits sending "by means of a public electronic communications network a message or other matter that is grossly offensive or of an indecent, obscene or menacing character."His original conviction saw him fined 1,000 pounds (about US$1,550).However, on Friday it was overturned by London's High Court.Chambers' defense lawyer John Cooper argued that the conviction of his client made the British legal system look silly and that even if the original message was a threat, in could not be called menacing or criminal."We don't say it's a good joke, but he shouldn't have been convicted over a bad one," he told the High Court hearing.The case drew public attention, with Chambers' supporters including actor and author Stephen Fry and comedian Al Murray.After the news of the court victory came, Twitter was flooded with cheers to Chambers and his name "trended" worldwide. Some joked that now they would not have to blow up the courthouse.