Terrorist in town: UK wrong on rights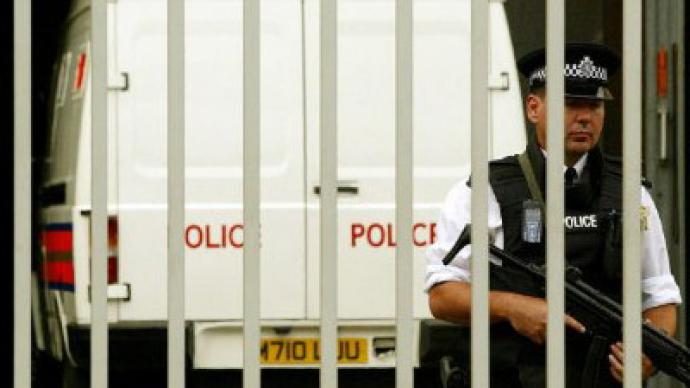 A convicted terrorist in London has been released halfway through his sentence – and despite being deemed "the highest risk to the public", it seems that the public is just going to have to deal with it.
Filled with hate? Check. Convicted of involvement in the July 21, 2005 bombings in London? Check. Graded highest possible risk to the public? Check. But there's one more check that Siraj Yassin Abdullah Ali is getting – from the British taxpayers. Released early, he is now living in a bail hostel and getting welfare handouts funded by taxpayer money – on a quiet residential street in the British capital, among the very people he and his terrorist cohorts were planning to kill. In a move that has caused outrage in the nation, activist lawyers have prevented Mr. Ali from being deported back to his native Eritrea – because, supposedly, his human rights would be violated there. This is the man who knew about the potentially murderous July 21 conspiracy and helped the fanatics clear up their explosives factory. He was jailed for 12 years in February 2008 for aiding and abetting the Al Qaeda cell. The judge who delivered the verdict said he must have "harbored the hope" the bombers would "destroy society as we know it."But it seems that Ali, along with another man who helped the would-be bombers, decided that society as he knows it back home wasn't all that dear to him – and that he'd much rather stay put in the UK, infidels or not. The case is the latest to highlight how human rights laws have left authorities powerless to deport terrorists and convicted criminals. Under Article 3 of both the European Convention on Human Rights, and Labor's Human Rights Act, individuals are protected against torture, inhuman or degrading treatment – and this very clause allows foreign terror suspects to fight deportation on the grounds that they would be tortured in their home countries if returned. Yet no one seems to take into account the rights of the people – and how living next door to a convicted terrorist is affecting them. To many, especially the families of all those who died in the July 7, 2005 bombings, this is practically torture, too. "I feel the same fury that many of my constituents do over the release of this man and others like him back into the community," said Tory MP Patrick Mercer. "Clearly, human rights are important, but so are the rights of the innocent people whom this man has plotted to murder!" Recently, more and more people are speaking out, questioning the future of Europe's human rights legislation in Britain. "This is the best reason yet to get rid of European human rights legislation," said the leader of UK's Independence Party, Nigel Farage. "If we wish to prevent injustices like this from re-occurring, then the UK should withdraw from the jurisdiction of the European Court of Human Rights in Strasbourg."Mr. Farage is not the only one to question the UK's adherence to European human rights laws. European Parliament member Gerald Batten told RT that Britain "should tear up the Human Rights Act and kick this man [Siraj Yassin Abdullah Ali] back to where he came from."But while politicians are demanding changes, Mr. Ali – and others – will continue to enjoy their time in the UK at the expense of the very establishment they tried to destroy. And it's not just convicted terrorists who get their "human" rights prioritized. One of the United States' most wanted men, a convicted pedophile facing 75 years in prison back in native Minnesota, is also enjoying life in London. Despite him being on Interpol's most wanted list for years, until recently he managed to stay off every radar. And even after US officials filed an extradition request, a judge in London is still deliberating that possibility – and statistically, it does not look good for Minnesotan justice. Statistics show that Britain is not all that keen on extradition. Of anyone. Be it terrorists, pedophiles, suspected murderers, Nazi sympathizers, embezzlers, hackers – or any other lawbreakers. It refused to extradite former Pakistani president Pervez Musharraf in the Benazir Bhutto murder case – citing the lack of an extradition treaty. And even when such a treaty exists – as is the case with Russia – the extraditions just don't happen. And while many legal reasons can be – and are – cited, it's the human rights claim that is most infuriating to the British people. Siraj Yassin Abdullah Ali is just the latest reminder that even though everyone is supposedly equal, some are more equal than others. And unfortunately, it's the innocent that find themselves a minority.
Katerina Azarova, RT
You can share this story on social media: