UK's $90 million Skylon to 'transform how we access space'
Published time: 16 Jul, 2013 11:00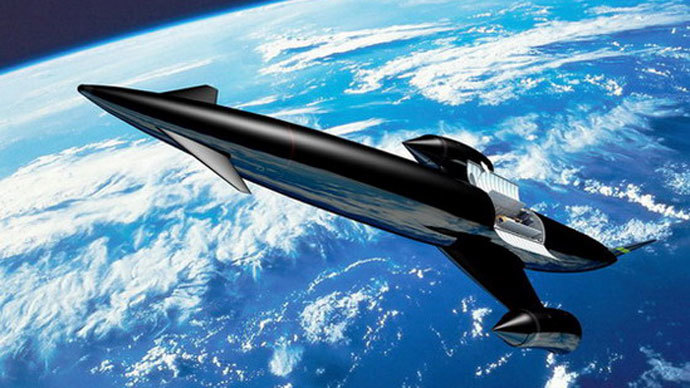 Skylon, a revolutionary UK spacecraft which could take adventurers to Earth's stratosphere in just 15 minutes or fly travelers to Australia in four hours, will get $90 million from the government. The challenge is to cut the cost of space travel.
Skylon boasts a hybrid jet-rocket engine, SABRE (Synergistic Air-Breathing Rocket Engine), capable of blasting into low earth orbit. It takes off from a standard runway before accelerating to speeds of 19,000 miles per hour.

The Minister for Universities and Science says "SABRE has the potential to completely transform how we access space."

"By supporting this breakthrough technology we are giving the UK a leading position in a growing market of new generation launchers and removing one of the main barriers to the growth of commercial activity in space," David Willetts told the Telegraph.

The minister is expected to share more details about the project at the UK Space Conference in Glasgow, which runs until Wednesday.

The founder of Reaction Engines, Alan Bond, has received the go-ahead from the chancellor George Osborne to construct the 3,500mph rocket.

Unlike conventional aircraft engines, SABRE switches in flight to become a rocket engine that can boost Skylon to a speed faster than Mach 5, or more than five times the speed of sound, according to icarusinterstellar.org. After take-off, SABRE mixes hydrogen with air it sucks in, after which it switches to rocket mode, using oxygen carried in its own tanks to accelerate into space.

The breakthrough in the engine's technology is that SABRE engineers can cool the incoming airstream from a temperature of over 1,000 C to -150 C in less than a hundredth of a second without the engine frosting up.

Skylon's 82-metre long fuselage will be built from carbon-fiber reinforced plastic with a black ceramic skin to protect against the heat of re-entry. It will be powered by two SABRE engines.

Osborne's decision to invest in the Sabre engine was boosted by a hundred successful test runs and a study by the European Space Agency to validate the design.

It is hoped that Skylon could cut the launch expenditures by over 95%, bringing the cost of space travel in line with aviation.

As things stand now, its only competitor these days is Richard Branson's Virgin Galactic, which offers six-minutes-of-weightlessness-trips for $182,000. The challenge for Skylon is to reduce this price.

"It would allow us to launch satellites far more cheaply, to build space stations or to create orbiting solar arrays that would beam power to earth. We could even construct spaceships for missions to other planets," the British inventor told International Business Times.