Russian backed Grishin Robotics invests $300,000 into American nano-satellites
Published time: 12 Jul, 2013 13:32
Edited time: 12 Jul, 2013 13:32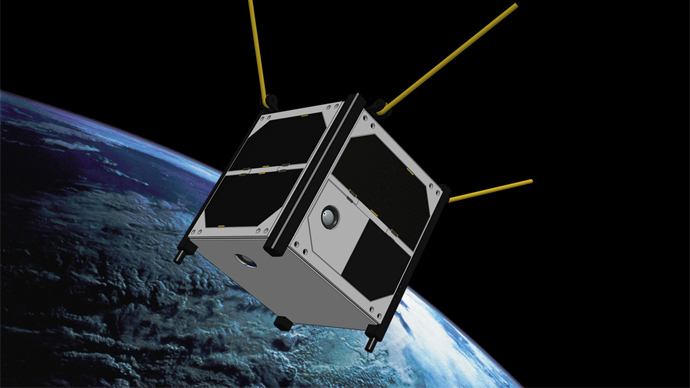 Grishin Robotics, the first global robotics investment company, said it is investing in US–based NanoSatisfi. With the funds raised the American company plans to enable any person across the world to look into space via the internet for just $250 a week.
NanoSatisfi, located  in California, USA, is dedicated to easing access to space exploration, images and data by providing individuals access to a user-programmable in-orbit nano-satellite for $250/week. By means of a simple online satellite control interface and hands-on experiments, users aged 12 and up can program and control  the satellite, provide instructions on sensor activation, track satellite orbit, and download data and pictures from space. NanoSatisfi also provides users with a full online curriculum on satellite technologies, science,  programming, and sensors in a blended learning environment. Such an approach enables everyday individuals and students to access space – and not only rocket-scientists.

Grishin Robotics is a global investment company that supports  personal robotics around the world. The company is focused  on raising the profile of the robotics industry and helping robotics entrepreneurs advance their products  and ideas. For more information, visit www.grishinrobotics.com
Dmitry Grishin is Chairman of the Mail.Ru Group, a publicly traded company with a market capitalization of nearly $6 billion. He will contribute to the development of the ultra– mall satellites known as nano-satellites. NanoSatisfi  wants  to use the money to provide a web-based platform for direct access to the nano–satellites, primarily to educational organizations. During 2014 the US company plans to make nano–satellites accessible for more than 250,000 people.
"NanoSatisfi disrupts and truly democratizes the space industry, making it much more accessible to a wider audience than ever before. The number of launched satellites is projected to nearly double in 2020 in comparison to 2013 and the company is very well positioned to become a leader in this emerging market",  Grishin said.
Peter Platzer,  founder of NanoSatisfi, compares modern nano–satellites to robots in space. "Our common mission is to use nano-satellites to expand people's possibilities and provide access to space to millions people across the world. On top of that, numerous groups of nano-satellites will in the future allow to solve difficult problems that involve processing loads of accurate and quality data about our planet and the surrounding space," Platzer said.
On top of building new open-source nano-satellites and launching them, the money is expected to finance expansion of NanoSatisfi engineering team. Two satellites have already been built and are scheduled for a launch within the coming months.