Report tracks guest workers abuses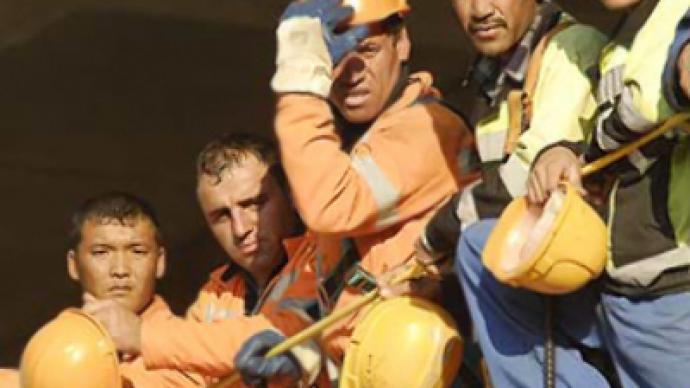 Guest workers are massively mistreated and their rights violated in Russia, says a report by Human Rights Watch. The financial crisis makes things even worse.
There are up to nine million guest workers in Russia, most of them are citizens of former soviet republics, which have visa-free travel agreements with Russia, HRW said. Almost half of them work as construction workers feeding on the boom in the industry.
According to the organisation, 77% of the 140 people they surveyed have no contract with their employer, which means they are illegal immigrants. They have next to no legal protection and are subject to abuses by both employers and the local police, including underpayment, unsafe working conditions, forced overlabour, racketeering, and sometimes violent attacks.
"The situation is difficult, and the financial crisis may aggravate it," warned HRW author Maria Lisitsina.
The human rights watchdog blamed Russia's authorities for lack of effort to change the situation and red tape preventing guest workers from obtaining jobs legally.
Spokesperson for the Russian Migration Service Konstantin Poltoranin said the immigrants can be partially blamed for the situation:
"They turn to unreliable middlemen and often don't even try to learn about their rights because they have language difficulties," he said to Kommersant daily.
He also challenged HRW statistics, saying in Moscow alone more than 80% of guest workers take their jobs legally. He added that one third of immigrants go to the Russian capital.
Xenophobia flourishing
The Human Rights Watch says Russian society is highly intolerant towards immigrants, citing local NGOs. While admitting some progress in government's effort to address the problem, including several high-profile cases which went to court, HRW believes not enough is being done.
There is also the fear of a rise of crime rates among immigrants themselves. According to a senior police official of St. Petersburg, Vladislav Piotrodsky, the number of crimes committed by immigrants in the city has grown by 25% in 2008.
Growing unemployment has led several political organisations to raise protests against illegal immigrants and call for reducing quotas for guest workers recently. Activist from one such organisation commented on the HRW report:
"They talk about immigrants' rights and forget about their responsibility to work legally. It's funny that an American organisation tells us how to treat our immigrants, while there is a wall between the U.S. and Mexico," said Andrey Tatarinov from Young Guard movement.
Human Rights Watch is an international non-profit organisation founded in 1978 and based in the U.S.
You can share this story on social media: