Saudi Arabia arms Syrian rebels via Jordan – report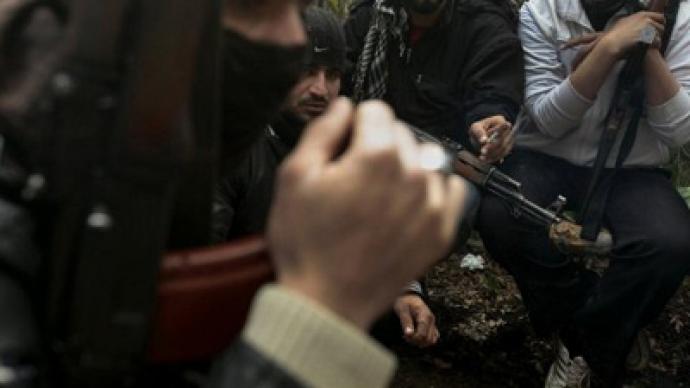 Saudi Arabia has reportedly sent military equipment to the Free Syrian Army in an attempt "to stop bloodshed by President Bashar Al-Assad's regime" via Jordan, with the latter officially denying the delivery.
Information that the military aid was sent came from an unnamed high-level Arab diplomat speaking to Agence France-Presse. However, the Jordanian government has rejected Saturday reports that it allowed Saudi weapons for Syria to transit its territory. Government spokesman Rakan al-Majali told United Press International that the reports were baseless, according to the Jordan News Agency. Jordan borders Syria in the north, with over 65 per cent of its trade transits coming across that border. Around 80,000 Syrians have fled to Jordan since March 2011, according to estimates by local officials. Earlier this week Adnan Hassan Mahmoud, Syria's Minister of Information, said that some countries such as Qatar and Saudi Arabia, which support Syrian "terrorist" groups and provide them with weapons and money, are accomplices in the "terrorism" targeting the Syrian people, and that it is these countries that are responsible for the shedding of Syrian blood. "We've grown accustomed to the bloody escalation of these terrorist groups in committing massacres, murdering citizens and attacking public and private establishments which proceeds international meetings," Hassan Mahmoud said. The accusations were reiterated on Syrian state TV following two powerful bomb blasts that killed at least 27 and wounded dozens more in Damascus. Programs showed the injured being taken to hospital, with one victim asking if this was "the assistance promised by Qatar and Saudi Arabia." "Saudi Arabia is sending us terrorists," another resident said on TV.Saudi Foreign Minister Prince Saud Al-Faisal claimed earlier this month that the Syrian opposition has the right to arm itself to protect itself. "Weapons used to target homes are used in wars with enemies," he noted.A number of Arab countries, Quatar and Kuwait among them, have already put forward the intention to deliver arms to the Syrian rebels, but if the arms deliveries via Jordan are confirmed, Saudi Arabia would be the first to put words into actions.On Wednesday, Saudi Arabia and other members of the Cooperation Council for the Arab States of the Gulf (CCASG) – Bahrain, Kuwait, Oman, Qatar and United Arab Emirates – closed its embassy in Damascus and recalled all of its diplomats.
You can share this story on social media: