'Strip to prove you were raped,' Indian police tell teen girl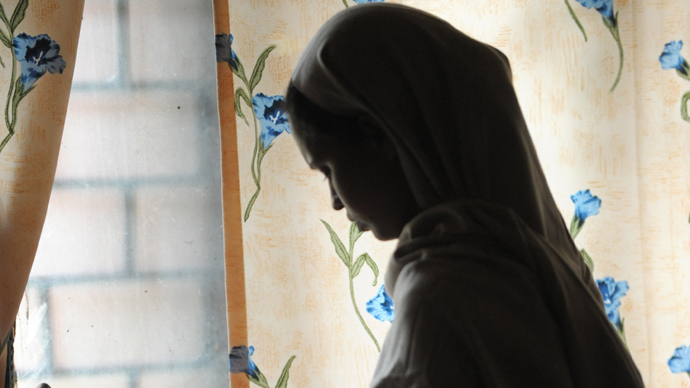 A 14-year-old girl turned to police in India to file a rape complaint, but instead she was allegedly forced to strip in front of a senior police officer to convince him that her allegation of rape was genuine.
Earlier this week the teenager had gone to a police station in Kushinagar, in the Indian state of Uttar Pradesh, with her parents to file a report about her alleged rape by a local resident. But the girl's father was allegedly asked to pay 50,000 rupees ($800) to the police – to register the complaint and arrest the accused.

After the man refused to pay, the senior officer asked the man's daughter to accompany him into a room where he locked the door from inside and demanded that she strip for him to make sure she was raped, The Times of India reported.

"He took me into a room and closed the door and asked me to remove my clothes," the girl stated in her complaint. The police officer also allegedly verbally abused the girl and her parents and sent them away without filing a report.

The incident came out after the family filed a new complaint with Kushinagar's police superintendent, accusing the senior police officer of demanding money and humiliating the girl. Only then did the police finally take action and detained the accused, the newspaper reported.

According to the National Crime Records Bureau, one woman is raped every 20 minutes in India. The number of children raped has increased by 336 percent in the past 10 years.
Studies reveal that women are more likely to report sex crimes if female police officers are on duty. When they report rape charges to male officers, they are often humiliated. Compounding the problem, India has a much lower proportion of female police officers than in other Asian countries. In New Delhi, for instance, only 7 percent of police officers are women, according to The Times of India.

The average waiting time for the judiciary to try a rape case in India is over 600 days, with many cases taking five to 10 years to complete. As of March 2013, 24,000 cases of sexual assault were pending before state High Courts and the Supreme Court of India.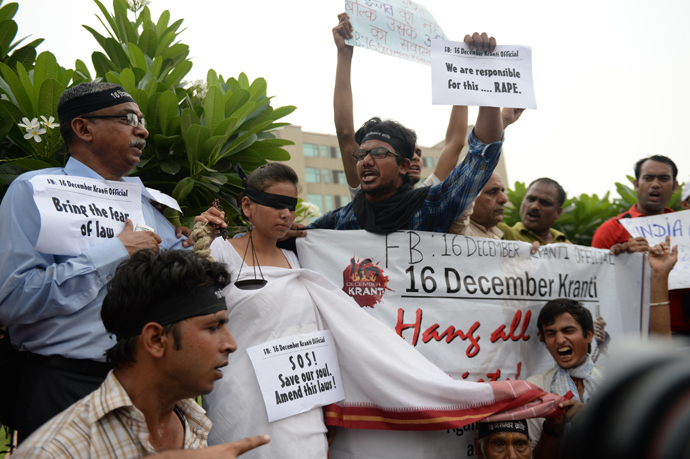 On top of this, according to The Hindu, India's official source of crime data, the National Crime Records Bureau, systematically under-reports virtually all crime in India, due to a statistical shortcoming.

For example, the country's most high-profile rape case, the gang rape and murder of a 23-year-old medical student in New Delhi in December, which prompted new examination of data on sexual assault in the country, doesn't even figure in NCRB data on rape. As has been confirmed to the newspaper by the NCRB deputy director, the data published by the Bureau takes into account only the "principal offence" in every First Information Report (FIR), i.e., the charge that attracts the maximum penalty. When rapes result in murder, such as the New Delhi gang rape case, the principal offence is murder, because it carries a maximum death penalty.

In the New Delhi gang-rape case, the young woman was attacked by a group of men on a night bus and later died of her injuries at a Singapore hospital. The crime prompted a massive wave of anti-rape protests across the country, as thousands of people, including women lawmakers, called for action from the authorities to protect women and more vigorously prosecute rape cases.

Earlier this month, an Indian court sentenced four men to death by hanging for the rape and murder of the young woman. The sentence has to be confirmed by the Indian High Court before it can be carried out. The men may appeal to the High Court and ask for clemency from the president.

After previously appealing for a lighter sentence, defense lawyers said that if hanging the men prevents further incidents of rape in the country, they might choose not to appeal the ruling in the High Court.

A survey conducted by Trust Law showed that India is the world's fourth-worst country for violence against women, behind only Afghanistan, the Congo and Pakistan. India was ranked the worst out of the G20 nations as it had abuse, violence, and murder on scales unparalleled in the other G20 nations, with reasons behind this including high rates of forms of slavery and exploitation. A cult of masculinity is an essential part of Indian culture. Young men often bully their wives through sexual violence, blaming women for their own unemployment and other misfortunes, resorting to violence and rape in revenge. One woman allegedly dies every hour in dowry-related crimes in India, with over 8,000 such deaths officially reported in 2012.

Nearly 31,000 violent crimes against women were reported in 2012 in the state of West Bengal, the highest in the country – a figure that accounts for 12.67 percent of the total crime committed against women in India. The irony is that the state is ruled by a woman chief minister, India Today reported.

In June, police in eastern India detained 13 members of a women's rights group as they staged a protest to raise awareness of violence against women and lack of police protection. The protesters were outraged by two similar incidents that occurred in June: the gang rape and murder of a 20-year-old college student in West Bengal's North 24 Parganas district in June, and that of a 14-year-old girl, who was gang-raped and killed by one of her neighbors when she was returning from school in the town of Gede.

In the final two months of 2012, the International Centre for Research on Women conducted a survey amongst New Delhi residents to find out their attitudes toward sexual violence. 95 percent of the female respondents reported feeling unsafe in public, due to the perceived threat of sexual violence against women, while 75 percent of male respondents said "women provoke men by the way they dress."

You can share this story on social media: