Hundreds in Ecuador rally in support of Assange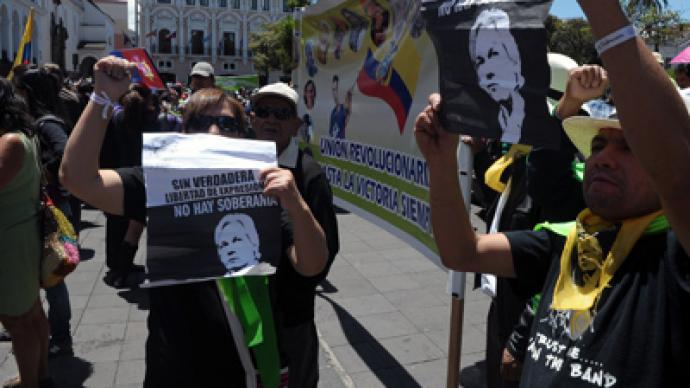 Social activists and others from around Ecuador have gathered in the center of Quito to express support for their government's decision to grant political asylum to WikiLeaks founder Julian Assange.
Hundreds of demonstrators rallied on the Ecuadorian capital's Plaza Grande, holding placards reading "Without true freedom of expression there no sovereignty," and "Viva freedom of expression. Support Julian Assange."Last week, the Ecuadorian government announced it would grant the world-famous whistleblower political asylum. The decision came almost two months after Assange came to the country's London embassy seeking protection. "I think this government has stressed with its courageous decision to give diplomatic asylum to Julian Assange that for us it is a symbol of the freedom of expression on the international level, which has broken the cliché that one cannot touch the powerful. In this sense I believe that there is a need to show support and condemn the threats by the United Kingdom to try to raid our diplomatic mission there, in London," said lawmaker Pedro de La Cruz, according to El Telegrafo daily.Meanwhile, members of Revolutionary Left Movement marched in support of Ecuador's sovereignty to the British Consulate General in the country's biggest city, Guayaquil.
This comes after a Sunday meeting of the Union of South American Nations (UNASUR), where the bloc unanimously adopted a seven-point resolution supporting Ecuador's right to grant Assange asylum, condemning British threats to raid a sovereign state's embassy in order to arrest him.Foreign ministers of the 12-member bloc, which gathered in Guayaquil, adopted a document reiterating "the inviolability of embassies" and the Vienna Convention, saying that the principles of international law could not be overridden by domestic laws, such as the Diplomatic and Consular Act of 1987, which London says grants the British Secretary of State discretion to revoke immunity to ambassadorial premises. UNASUR vowed to encourage all parties involved in the Assange case to continue dialogue to find a solution within the framework of international law. The South American foreign ministers also reaffirmed the importance of refuge and asylum for the protection of human rights.Ecuadorian Foreign Minister Ricardo Patino noted that while Britain was a country far more powerful military-wise than Ecuador, the small Latin American country had the high ground in terms of its understanding of international law. "Reason does not call for force," Patino told reporters after the Sunday meeting. "The force may be as different and as distant as a small country and a country which has atomic bombs. But here, reason is with us." Last week, UK Foreign Secretary William Hague said Britain will continue its efforts to extradite Assange to Sweden despite his being granted political asylum by Ecuador. He stressed that Britain does not recognize Assange's asylum status.
You can share this story on social media: