South American bloc adopts resolution on UK threats to Ecuador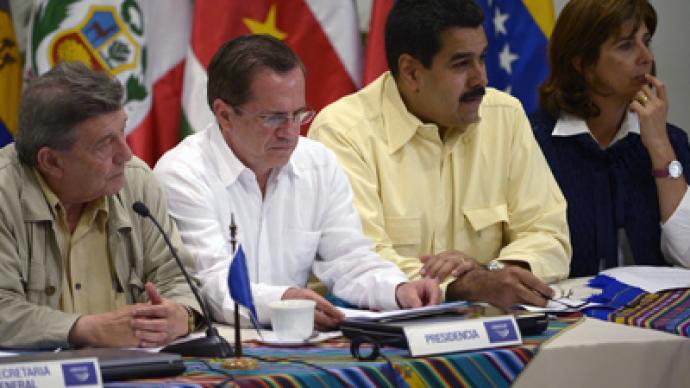 The Union of South American Nations (UNASUR) has unanimously adopted a seven-point resolution supporting Ecuador's right to grant Julian Assange asylum and condemning British threats to raid a sovereign state's embassy in order to arrest him.
Foreign ministers of the 12-member bloc took part in an extraordinary meeting in Guayaquil, Ecuador's largest city. A resolution was adopted just eight minutes after the session began, and was read out by Secretary General Ali Rodriguez. Rodriguez' readout of the resolution was met with loud applause.The document reaffirmed the sovereign right of any country to grant asylum and condemned threats to use force, stating that the bloc's foreign ministers had taken into account the aide memoire Britain sent to the Ecuadorian Embassy in London on the eve of the announcement of the decision on whether to grant Assange asylum. The resolution reiterated "the inviolability of embassies" and the Vienna Convention, saying that principles of international law could not be overridden by domestic laws, such as the Diplomatic and Consular Act of 1987, which grants the British Secretary of State discretion to revoke immunity to ambassadorial premises. The organization vowed to encourage all parties to the Assange case to continue dialogue to find a solution within the framework of international law. The importance of refuge and asylum for the protection of human rights was also reaffirmed by the South American foreign ministers. After the session, Ecuadorian Foreign Minister Ricardo Patino addressed the press.He noted that while the United Kingdom was a country far more powerful military-wise than Ecuador, the small Latin American country had the high ground in terms of its understanding of international law. "Reason does not call for force," Patino stated. "The force may be as different and as distant as a small country and a country which has atomic bombs. But here, reason is with us." Patino thanked fellow Latin American nations for firmly supporting Quito on the issue and said he was pleased with the fact that Julian Assange knows that the region respects international law, the right to personal integrity and the freedom of expression. He also said he waiting for a resolution expected to be adopted at a similar foreign-minister level meeting of the Organization of American States (OAS), which is scheduled to meet next Friday.Ecuador convened a number of regional meetings following the threat to storm the country's embassy in London.On Saturday, representatives of the Bolivarian Alliance for the Peoples of Our America (ALBA) adopted a similar eight-point resolution condemning Britain for its "intimidating threats" to violate the principles of sovereignty and territorial integrity.On Friday, a special meeting of the Permanent Council of the Organization of American States, which envelopes countries from North, Central and South America, voted to hold a meeting of the member states' foreign ministers in order to discuss the same resolution filed by Ecuador.
You can share this story on social media: