'Nuclear train' returns: Russia to deploy rail-based missiles to counter US 'Prompt Global Strike'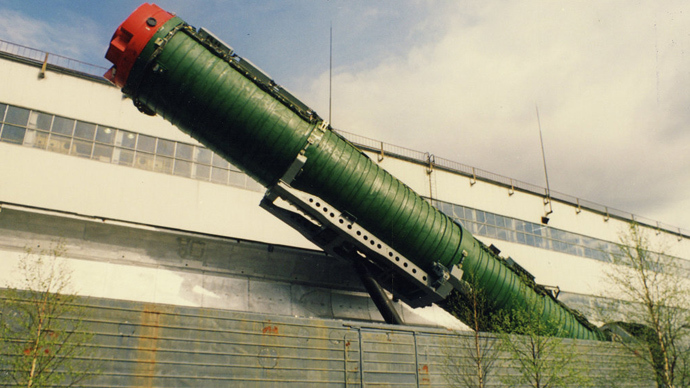 Russia's Strategic Missile Forces are preparing to revive railroad-based missiles and counter the US's Conventional Prompt Global Strike concept. A blueprint of the modernized "nuclear train" will be presented in the first half of 2014.
"A Defense Ministry report has been submitted to the president and the order has been given to develop a preliminary design of a rail-mounted missile system," the commander of the Strategic Missile Force, Lt. Gen. Sergey Karakayev, said Wednesday, RIA Novosti news agency reported.
General Karakayev compared a potential power of a "nuclear train" with several missiles to a division of stationery silo-based intercontinental ballistic missiles.
"Our missile officers are frustrated that we don't possess such a system today," Karakayev said Wednesday. "When the Supreme Commander-in-Chief [President Vladimir Putin] asked me about it, I expressed full support in the railroad-based missile systems."
Russia used to possess ICBM Molodets railroad-based missile system (NATO designation: SS-24 Scalpel) disguised as an ordinary freight train, inherited from the Soviet Union. With Russia's extremely vast railroad system, detection and preemptive destruction of that system was extremely difficult.
"We see the future missile as solid-fueled, with multiple warheads – with RT-24 Yars as a prototype. We are talking of modifying missiles that are to weigh 47 tons. To compare, a missile in the old nuclear train weighed 110 tons," Karakayev said.
Within the framework of the START-II nuclear arms reduction treaty with the US, signed by President Boris Yeltsin and his US counterpart, George H. W. Bush in 1993, the SS-24 Scalpel system was decommissioned and all launching platforms were destroyed by 2007.
The 'New START' treaty signed by presidents Dmitry Medvedev and Barack Obama in 2011 does not limit the use of railway-based systems, so in 2012 Russia reconsidered development of a new version of a railway-based strategic missile system.
One year later, Russia's Defense Ministry announced the new railroad missile system would be developed by the Moscow Institute of Thermal Technology – the same institute that developed the sea-based Bulava nuclear missile for the latest generation of Borey-class submarine strategic nuclear missile carriers.
The Institute is expected to present a blueprint of the system within the next six months.
The project is aimed at countering the threat posed by the US Conventional Prompt Global Strike concept. This concept implies destroying stationary targets with hypersonic missiles armed with conventional warheads in any part of the planet within an hour of receiving an order.
A constantly moving "nuclear train" is viewed as a hard target for that still-being-developed system.
Last week, Russia's Deputy PM Dmitry Rogozin, who oversees the Russian military and defense industry, called America's Conventional Prompt Global Strike concept "the most important new strategy being developed by the United States today." Rogozin warned that in case Russia becomes a target of such a strike, "in certain circumstances we will of course respond with nuclear weapons."
Recently, Rogozin also announced that Russia was developing strike hypersonic missiles itself.
You can share this story on social media: