Rabbit runs out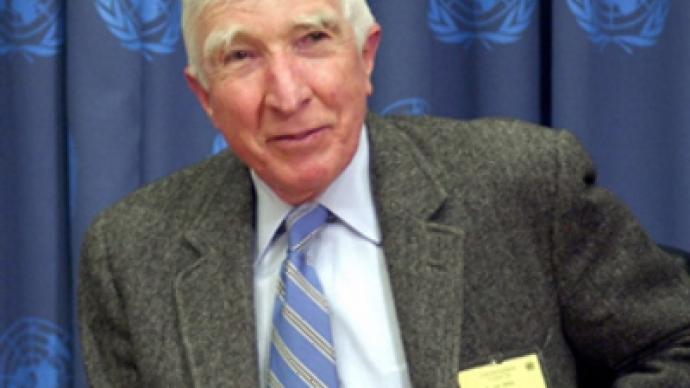 Pulitzer Prize-winning author John Updike died on Tuesday of lung cancer, aged 76. Having published more than 50 books, Updike was one of the most admired American novelists in Russia.
Updike passed away in a hospice in Beverly Farms, Massachusetts – a town where he lived for many years.
An industrious representative of the Protestant middle class of America, Updike was fully committed to literary work throughout his life, writing 28 novels and some 45 other works – short stories, poems, essays, memoirs and literary criticism – since the beginning of his career in the 1950s.
Many of his works appeared on best-seller lists, which helped him to collect almost every Western literary prize, including two Pulitzers and two National Book Awards.
Of course the greatest acclaim Updike received was for the five novels of his "Rabbit series".
It was easy to identify oneself with the persistently unsatisfied and doubtful-about-his-life former high-school basketball star Harry "Rabbit" Angstrom (certainly drawn from Updike, who was very tall himself). That is probably the reason why the readers quickly bonded with the character, allowing Updike to maintain the Rabbit series for more than 40 years.
The first – and some believe the best – novel of the series 'Rabbit, Run' was published in 1960, becoming the first major breakthrough for Updike. In this novel, which Updike himself considered sort of a response to Jack Kerouac's On the Road, Angstrom leaves his pregnant wife which leads to a tragedy.
The last novel of the series – 'Rabbit Remembered', released in 2001 – dealt with Angstrom's offspring, years after his death.
The disastrous and unpredictable impulsiveness of the protagonists was the key ingredient that held the readers in the tight grip of a thrilling plot; all the while the author accomplished a tough mission of literature.
Through the mild suburban transgressiveness of the "Rabbit series", Updike assessed what the Canadians refer to as "Le Déclin de l'empire américain" – the decline of the American empire, which became more and more evident as the boring prosperity of the dubious American dream demolished the traditional Protestant morality based on hard work.
Some may find it surprising, but the perception of Updike in Russia is slightly different than in the U.S.
His autobiographical novel, overloaded with Joycean Hellenistic themes, 'The Centaur' remains his most known and beloved novel in Russia to date. Russian readers identified with the introspective son of a high-school teacher (again drawn from Updike, whose father was a math teacher) far more than with the legendary Rabbit.
Ruben Zarbabyan, RT
You can share this story on social media: