Quebec students protest despite tuition hike backtrack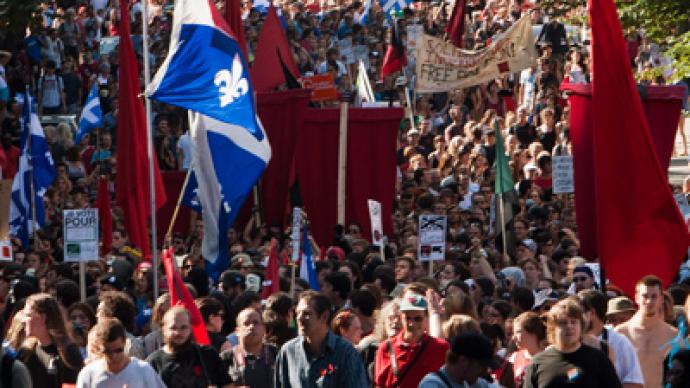 Police in Montreal dispersed a student march as several hundred people took to the streets, despite the government's recent cancellation of a proposed tuition hike, which caused massive outrage. The students are now rallying for free education.
­Police arrested at least two demonstrators after projectiles were thrown, the Montreale Gazette reports.A projectile hit a policeman in the knee, causing a slight injury, a police spokesman reported.On her first day in office, newly elected Premier Pauline Marois said that the government was ending the tuition hike proposal and nullifying Bill 78 – an emergency law designed to curb the powerful protests. Marois said that an inflation-only hike may be put into place. An inflation increase would raise tuition by a rate of around one to three per cent – compared to the 82 per cent increase proposed by the previous Charest government. In addition to the cancelled fee hike, Marois has promised not to decrease funding for universities. The news was considered a triumph for many students who spent over a year protesting against plans to raise tuition costs by $1,533 over the course of several years."It's a total victory…it's a new era of collaboration instead of confrontation," Martine Desjardins, president of the Fédération étudiante universitaire du Québec (Québec Federation of University Students), told the Montreal Gazette."Together, we have written a chapter in the history of Quebec. Together, we have just proven that we can stand up and reach one of the student movement's greatest victories," he said.However, one organization says the government's peace offering simply isn't good enough. CLASSE student group says the tuition hike cancellation doesn't put an end to the students' battle. The organization is seeking completely free university education. Jeanne Reynolds, a co-spokesperson for the group, says CLASSE "must celebrate a victory," but that the struggle must continue.Group members will take to the streets on Saturday, as they have done on the 22nd of each month since spring, to fight for tuition-free education.  It's a concept that Quebec's new Premier may be willing to consider."That's a proposal I'm putting on the table…it's a debate we need to have," Marois said.Students began the campaign against the proposed tuition hike in August 2011, with the movement quickly gaining momentum. Demonstrators hit the streets in protest just three months later.The protests were largely peaceful until spring 2012, when tens of thousands of demonstrators began clashing with police in Montreal – leading to the arrests of thousands of students.Many were detained under the controversial Bill 78, which restricted mass gatherings and increased fines for violations during large events.