At least 13 killed, 50 still missing after Canadian oil train blast forces town evacuation (VIDEO, PHOTOS)
At least five tanker cars of petroleum exploded Saturday in the Canadian province of Quebec after a runaway train destroyed nearby buildings, leaving 13 dead and dozens unaccounted for. An imposed security zone forced 2,000 people to evacuate their homes.
The Quebec provincial police department said rescue teams and police were aware of "many" missing people. Reports indicated that between 37 and 50 people remained unaccounted for as "hot zones" prevented firefighters from reaching every area.  
Officials admitted those numbers could fluctuate as searches continued through Monday. 
"I don't want to get into numbers, what I will say is we do expect we'll have other people who will be found deceased unfortunately," Lt. Guy Lapointe, a spokesman with Quebec provincial police, said on the day of the explosion. 
Firefighters focused their effort Monday on two unexploded oil-filled cars, dumping water and foam on the tankers to keep them from overheating and detonating. Seventy-two of the 73 tanker cars were carrying oil at the time of the explosion, with five breaking loose and bursting violently. About 30 buildings were destroyed, including a public library. 
Those close to the situation speculated the problem began with a brake failure, as inspectors from the Canadian Transport Agency have come forward to say they recently found no problems with the train upon examination. 
"Transport Canada inspectors inspected the locomotive involved in this event just the day before it happened, on July 5, and found no deficiencies," Canadian Transport Minister Denis Lebel told reporters on Monday.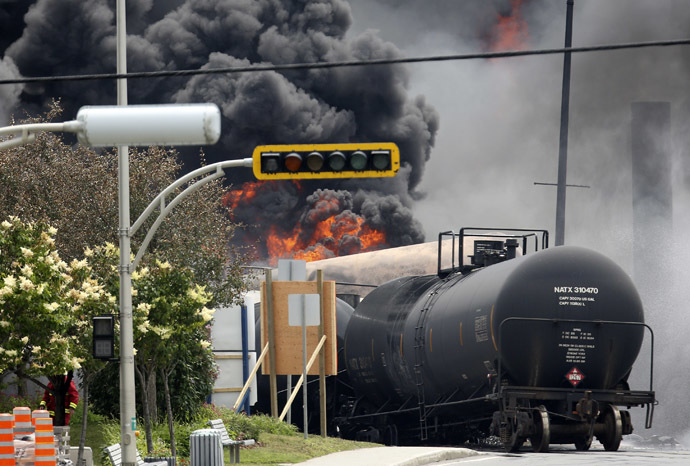 At least 50 customers of the Musi-Café, a popular live music hangout in the town of Lac-Megantic, were feared dead after the derailed train completely destroyed it. Rescuers had only searched a fraction of the affected area because of the lingering danger. The Musi-Café still had yet to be searched nearly 48 hours after the explosion. 
The blast and heavy fire occurred shortly after 1:00 am (05:00 GMT) when the 73-tanker train with five locomotives derailed while passing through the French-speaking Lac-Megantic, a lakeside town of about 6,000 people in the province of Quebec near the Maine border. 
Mayor Colette Roy-Laroche told reporters that roughly 1,500 of the 2,000 evacuees would be able to "reintegrate" to two neighborhoods affected by the disaster Tuesday, although he did not outline a specific plan. 
"It's dreadful," Lac-Megantic resident Claude Bedard told the Canadian Broadcasting Corporation. "It's terrible. We've never seen anything like it. The Metro store, Dollarama, everything that was there is gone."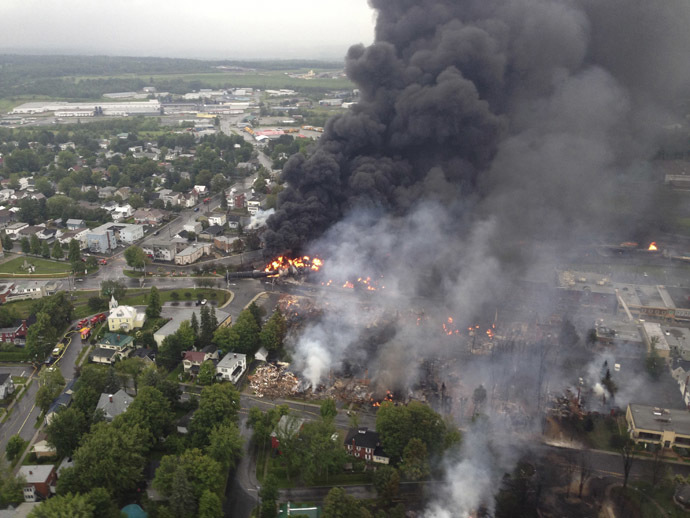 Four of the cars caught fire and blew up in a huge fireball that left flames billowing hundreds of feet into the sky. The fire spread to a number of homes.  
Witnesses told Reuters they heard at least five loud blasts. The blast was described as "like an atomic bomb," by a local restaurant owner.  Bernard Demers had to evacuate the premises, telling AP that everybody had been terrified. 
Industry Minister Christian Paradis, who handles Quebec affairs for the federal government, also said the death toll was likely to rise. 
"I hope there are not too many dead," Paradis told Radio-Canada. "It's really terrifying. I think the worst is yet to come." 
"Thoughts & prayers are with those impacted in Lac Megantic. Horrible news," tweeted Prime Minister Stephen Harper as firemen tried to calm the blaze.
"This is an unbelievable disaster," Harper said after touring the scene, which he compared to a "war zone." 
"This is an enormous area, 30 buildings just completely destroyed, for all intents and purposes incinerated. There isn't a family that is not affected by this." 
Rail Company Montreal, Maine & Atlantic said in a statement it had received reports of "a number of fatalities and injuries."
The company said that the train had been parked 6.8 km from the town, and no one was on board when it "somehow got released." 
"We're not sure what happened, but the engineer did everything by the book. He had parked the train ... somehow, the train got released," company vice president of marketing Joseph R. McGonigle said. 
The Canadian Transportation Safety Board is looking for the train's "black box" voice and data recorder.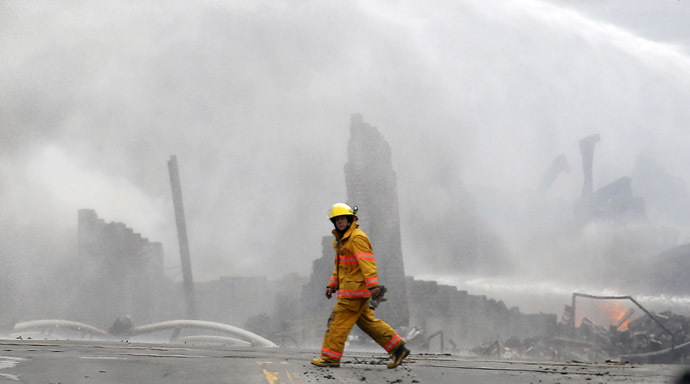 Around 20 fire engines have been battling the inferno, which they feared could spread to the many tanker cars are still at risk of exploding. Fire trucks have been dispatched from northern Maine, US, to assist. 
"There are still wagons which we think are pressurized. We're not sure because we can't get close, so we're working on the assumption that all the cars were pressurized and could explode. That's why progress is slow and tough," said local fire Chief Denis Lauzon.
"Right now, there is a lot of smoke in the air, so we have a mobile laboratory here to monitor the quality,"  Christian Blanchette, a spokesperson for Environment Quebec, told AP. Smoke could be seen from several miles away hours after the derailment occurred.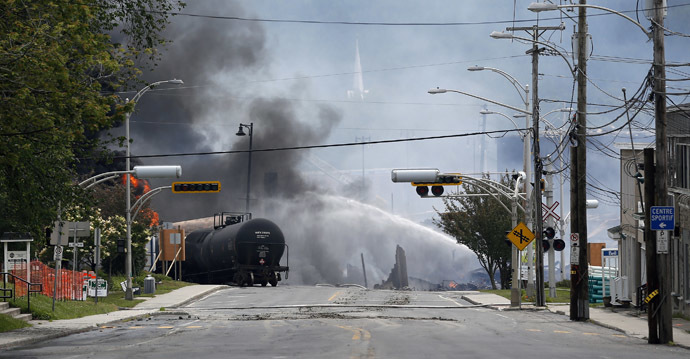 "When you see the center of your town almost destroyed, you'll understand that we're asking ourselves how we are going to get through this event," a tearful town Mayor Colette Roy-Laroche told a news briefing.

#LacMegantic, Quebec mayor Colette Roy Laroche says the city centre was completely destroyed in the blast: pic.twitter.com/QB40uc2oPY

— Michael Forian (@Forian) July 6, 2013
Police said contents from some of the tanker cars had spilled into the river that runs through the town.

Another unbelievable shot from #LacMegantic: pic.twitter.com/yhu1Z6sUOx

— Michael Forian (@Forian) July 6, 2013

The railroad is under the supervision of Montreal, Maine & Atlantic. The company owns around 500 miles of track across Maine and Vermont in the US, as well as in Quebec and New Brunswick in Canada.
The oil-train was traveling from North Dakota's Bakken oil region to a refinery in New Brunswick on the east coast of Canada. Train derailments carrying petroleum products in Canada have not been uncommon in recent months. An accident last week in Calgary, Alberta saw a train derailed on a collapsing bridge, threatening to send the diesel-carrying cars into the swollen Bow River.
The Canadian Railway Association, as quoted by the Guardian, has estimated that 140,000 carloads of crude oil will be shipped in Canada in 2013, quite an increase from 500 carloads in 2009.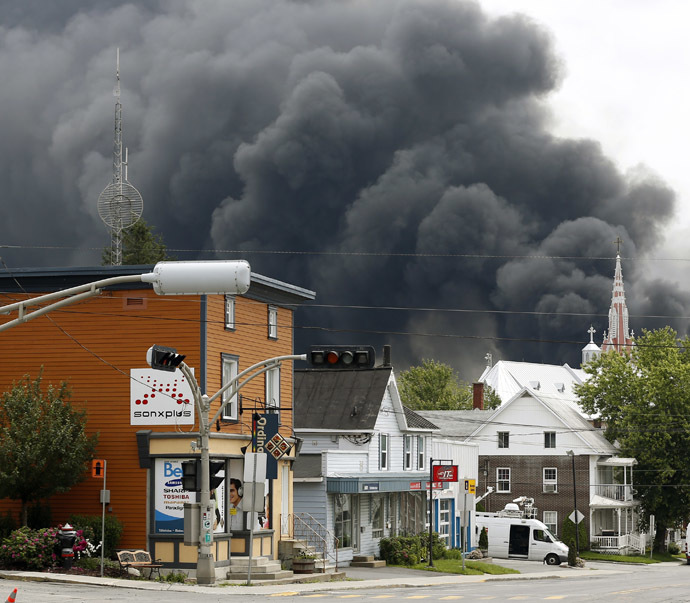 You can share this story on social media: