Al-Qaeda leader calls for more anti-US protests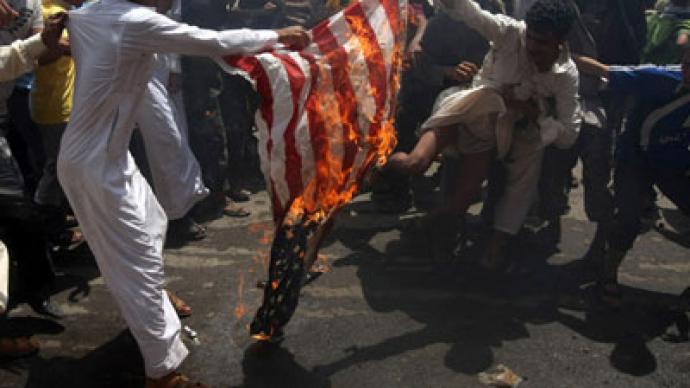 With the number protests outside US embassies declining, Al-Qaeda head Ayman al-Zawahiri urged "zealots of Islam" to "continue opposition." He said a US-made Islamophobic film is "American crusader Zionist aggression," and cannot be forgiven.
Al-Zawahiri's seven-minute address to "free and distinguished zealots for Islam" appeared on Islamic websites early Saturday. In the speech, Al-Qaeda's new leader, who came to power after Osama Bin Laden's death last year, hailed "the honorable people… who stormed the US embassy in Benghazi and those who protested outside the US mission in Cairo, where they replaced the US flag with that of Islam and jihad."An angry mob assaulted the US consulate in Benghazi, Libya, on September 11, the 11th anniversary of Al-Qaida's 9/11 attacks on New York and Washington. US ambassador to Libya Chris Stevens and three other staffers were killed in the incident. It was initially believed that the Benghazi violence was prompted by an amateur film made in the US that depicted Islam's Prophet Muhammad as a thuggish deviant. Later, however, US Secretary of Defense Leon Panetta revealed that the assault in Libya was a preplanned attack linked to Al-Qaeda.
Saturday was not the first time Al-Qaeda praised the Benghazi attack, but as in previous statements, Al-Zawahiri stopped short of claiming responsibility. Al-Zawahiri also called for more global protests against the US and lashed out at Washington for its reluctance to ban the anti-Islamic video 'Innocence of Muslims.'The White House, though condemning the 13-minute video uploaded to YouTube, said they could not ban the movie without violating the US constitutional right to free speech.
Al-Qaeda's leader said Saturday that the US allowed the film's production and circulation under "the pretext" of freedom of expression, "but this freedom does not prevent them from torturing Muslim prisoners." Al-Zawahiri was apparently referring to the Muslims imprisoned in Iraq, Afghanistan and Guantanamo Bay. Thousands rallied in Egypt, Lebanon, Pakistan, Yemen, Iran and across Europe to protests against the incendiary 'Innocence of Muslims' video. US missions and businesses were burned down, and over 60 people were killed and hundreds injured in the resulting clashes with police.
You can share this story on social media: