Citing extremism, Russia seeks to ban 'Innocence of Muslims'
Published time: 17 Sep, 2012 14:51
Edited time: 17 Sep, 2012 18:51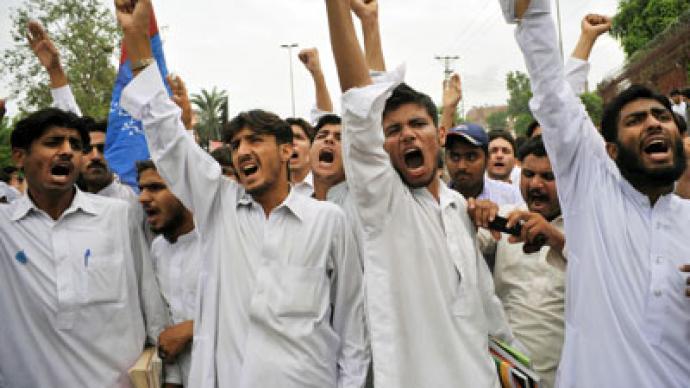 The Russian Prosecutor General's Office has warned internet providers against the online distribution of the film, which Muslims say is blasphemous.
"The Prosecutor General's Office will appeal to the courts for this film to be acknowledged as extremist in order to prevent its online distribution in Russia," Office spokesperson Marina Gridneva told Interfax on Monday.
An inquiry has been held into "the online distribution of the film, which insulted religious beliefs…and incited inter-ethnic feud," she said.
"Before the court makes a ruling, the Prosecutor General's Office instructed the Federal Service for Communications, Mass Media and Information Technologies to take measures to prevent the media distribution this film contains," Gridneva added.
Violent protests against the film broke out on Sept. 11 in Egypt and Libya, eventually spreading to other Arab countries in the days that followed. An attack on the US consulate in Benghazi led to the death of US Ambassador Chris Stevens and three other Americans.
Russian Deputy Prosecutor General Viktor Grin warned a number of leading internet providers against violating a law forbidding online distribution of this film, Gridneva said.
"The instructions were also given to prosecutors in Russian regions, who would take similar measures," she said.
Federation Council senators said internet providers should restrict access to websites hosting a trailer for the film, which Muslims say is blasphemous to the prophet Muhammad.
"The screening of this film has already led to the deaths of tens of completely innocent people," Ilyas Umakhanov, deputy speaker of the Federation Council, told Interfax.
Umakhanov described "Innocence of Muslims" as "nothing more than a pornographic satire … aimed at inflaming the situation in the Muslim world."
"It is therefore necessary to introduce restrictions (on the distribution of the film), even if this causes consternation at first," he said.
The Senator expressed his fear that outrage over the movie "could split society and lead to a drawn-out conflict."
It has been estimated that some 10 million Muslims live in Russia.