Putin talks post-crisis economy with Merkel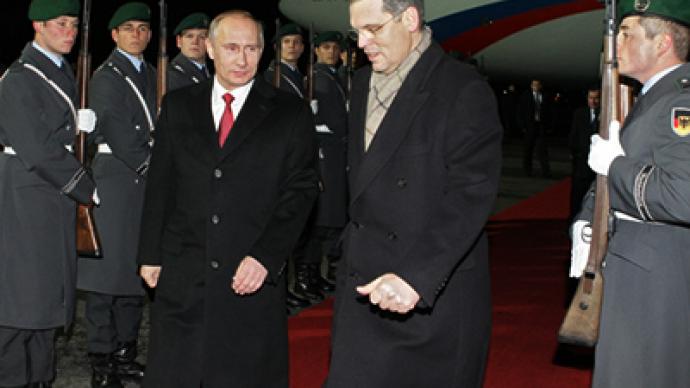 Russian Prime Minister Vladimir Putin is on a working visit to Germany, where he met Chancellor Angela Merkel and many of the country's top industrialists at an annual economic forum organized by the Suddeutsche Zeitung newspaper.
Vladimir Putin has held talks with German businessmen to discuss bilateral trade and economic relations.The Russian Prime Minister urged wider economic cooperation between Russia and the EU and said it is vital for keeping both Russia and the EU competitive.He also called on the European business leaders not to hamper cooperation between Russian and European companies and not to block Russian investors."Russian businessmen are ready to invest in European industry, but for unknown reasons this can be difficult. So when Russian money attempts to flow into European businesses, European companies look to other emerging markets to keep their costs down. There are many examples of Russians facing political and economic obstacles when attempting to enter economic markets," he said.Putin reminded the assembly that during the global economic crisis, Russia was helping foreign companies out just as much as the Russian ones, which, he said, was not happening in Europe.Once again, the Prime Minister brought up the subject of organizing a free trade zone from Lisbon to Vladivistok.Moving away from the subject of economics and business, Vadimir Putin answered a question about whether he is going to run in the Russian presidential election in 2012. Putin said that he and President Medvedev are going to study the situation in Russia and based on the conclusions determine what would be best for the country.When Putin was asked what he thought were the biggest problems facing the world today, he answered: terrorism, racial hatred and economic inefficiency.With his usual biting sense of humor, the prime minister hinted that Germany needs Russia's energy resources."The German community doesn't like nuclear power. I don't want to make any comments, but I don't understand what you are going to use for heating. You don't develop your nuclear power. What are you going to use for fuel — firewood? You'd have to get it from Siberia, too," he said.Later in the day, Putin had a meeting with Angela Merkel focusing on overall economic partnership between Russia and Germany.
Ahead of the meeting, Vladimir Putin wrote an article for the German newspaper in which he mapped out his vision for one massive market for doing business, stretching from Lisbon to Vladivostok. He said Russia and the EU should get rid of all barriers to commerce and become a free-trade zone worth trillions of dollars.The first of the annual forums was held in 2006. The event brings together leading executives of Germany's large and medium-sized companies.This year's agenda includes international cooperation in recovering from the crisis, building a post-crisis economy and joint efforts to prevent crises and fighting recession in the future. On Friday, when opening the forum, Chancellor Merkel said that Germany supports "the idea to create a free-trade zone between the European Union and Russia" but noted at the same time that "Russia's recent moves are not going in the right direction". She believes Russia should first join the World Trade Organization and talks "have significantly moved forward". Merkel also said that Moscow's willingness and practical steps to form a Customs Union with Belarus and Kazakhstan are at odds with the intention to create a free-trade zone between Russia and the EU. She said there are even more unsettled issues with Belarus and Kazakhstan who are also trying to join the WTO, than there are with Russia.Max Keiser, economist and host of RT's Keiser Report, believes Germany is ready to emerge as the world's new superpower."The US is gone, the UK is long gone, continental Europe is outside of Germany – doesn't produce anything," he says. "I predict the rise of Germany again. This is something that after World War II was attempted to be outlawed – but Germany is back."
Markus Kerber, a professor of political science at Berlin University, says economic crisis can be used an opportunity for Russia and Europe to open a new chapter in their trade relationship. "Despite being very critical of the Russian government's attitude as far as the rule of law is concerned, I think that Russia historically… is a natural ally to Germany and Europe," he said. "We cannot think Europe without thinking as well of Russia. Russia is a political matter of fact, and I have always advocated the strongest of ties between Russia and Germany, and between Russia and the European Union."
You can share this story on social media: