Putin, Obama stress cooperation, pledge to 'avoid deterioration' in relations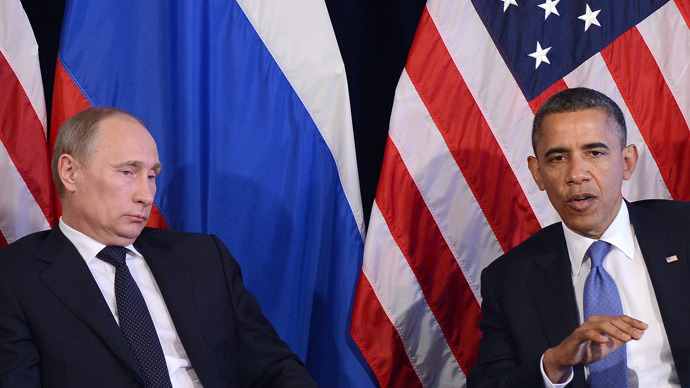 Russia and the US agreed to avoid "negative steps" that could threaten bilateral relations as the two countries' presidents held their first phone conversation since Barack Obama's re-election.
"The leaders of both countries are united in their desire to avoid any steps that could negatively reflect on bilateral relations," the Kremlin said in a statement following the phone conversation, which was initiated by President Obama.
Russian President Vladimir Putin and his American counterpart discussed a wide range of issues, paying special attention to the situation in the Middle East - particularly in Syria, the Kremlin said.
"The leaders agreed to cooperate closely on 'hot' international issues related to Syria, Middle East settlements, Iran, North Korea and plans in the field of anti-missile defense," the Kremlin's press service announced.

The press service said Putin reaffirmed his invitation to Obama for an official visit to Russia.
Putin and Obama agreed to hold a bilateral talk on the sidelines of the G8 summit in Northern Ireland, set for June 17 and 18.

The two leaders made the pledge to work closely on a "mutually beneficial relationship," agreeing that the partnership between the two countries "has principal significance for ensuring stability in the world."
Touching upon the situation in war-torn Syria, President Putin stressed "the need to put an end to military activity as soon as possible."
The two presidents tasked Russian Foreign Minister Sergey Lavrov and US Secretary of State John Kerry with working out new initiatives to resolve the ongoing conflict in Syria.

The phone call took place three days after Lavrov and Kerry discussed potential resolutions to the Syrian conflict earlier in Berlin on Tuesday.
Earlier Thursday, Joint UN and Arab League Special Envoy on Syria Lakhdar Brahimi said that hope for a solution to the crisis lies in the hands of Russia and the United States.

You can share this story on social media: