"Our spies compare favorably to US ones" – Putin parries with King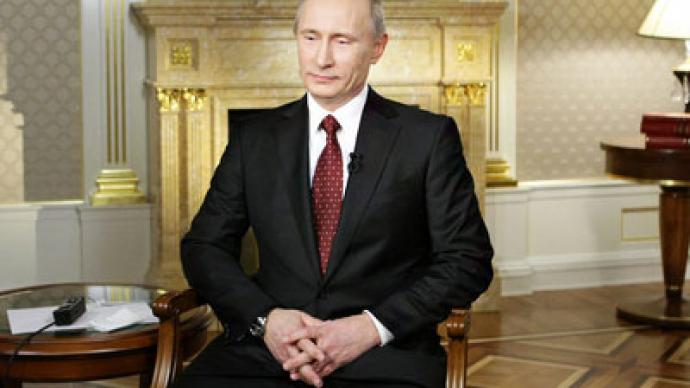 After a ten-year hiatus, Russian Premier Vladimir Putin has appeared on American TV in an hour-long, just-aired interview, in which he was quizzed by TV host Larry King.
It is the second time the pair have crossed swords and this time proved no less informative than the first.Quite predictably, Larry King began with a traditional question: will Vladimir Putin run for office in 2012? And Putin's answer to this question has not changed to the moment – he basically said he would figure something out with Dmitry Medvedev, thus indicating his partnership with the current president will continue.Parrying King's quoting of the WikiLeaks publication comparing the Russian PM and president with Batman and Robin, Vladimir Putin said as follows:"You know that Mr. Medvedev and I were solving the issue of co-operating in the future – which has actually come – on how we were going to build up our relations, when deciding on how to design the election campaign, the presidential election in 2008, we fully realized that many would try to sow discord within our common approaches, building of the state of Russia and economic development. It is because our co-operation is a significant factor for the internal policy of the country. But frankly speaking, we could not imagine that it was going to be done in such a bold, pushy and impudent way.""So such a claim is, of course, aimed at insulting one of us, hurt the pride and provoke steps which would destroy the beneficial co-operation in managing the country. I must say that we've got used to it already. And I ask those who make such attempts to calm down," he urged.Regarding the WikiLeaks publications as such Vladimir Putin commented he does not regard them as a catastrophe, though suggested that the US diplomats be more cautious with their internal correspondence. But he immediately pointed out that many believe the WikiLeaks to be created on purpose to be able to used as an instrument to reach political goals.Putin was also asked to comment on another leaked cable, in which the US Secretary of Defense Robert Gates states that democracy in Russia has disappeared and the country is ruled by the security services. The Russian PM said Robert Gates is deeply misled and Russia is ruled by people elected by its citizens. On saying that, he was careful to give a piece of advice concerning democracy in the US."I would like to remind you that twice, twice in US history there were cases that presidential candidates, who later won the election, were supported by a large number of electors were chosen by the least number of voters. Where is the democracy there?" questioned the guest."So when we say to our American colleagues that this sphere has issues in its system, we hear: 'Stay away from us. That's our tradition. And that's how it is going to be.' And we stay away. But I would like to advise our colleagues to stay away from the way we live too," Putin recommended.Prime Minister Putin and Larry King certainly touched upon some major international headlines, like the latest Russian presidential statement that if Russia and the US do not come to terms on the issue of nuclear arms reduction, it could trigger a new arms race, a statement made as a result of US Congress stalling the ratification of the START nuclear arms reduction treaty signed by Barack Obama and Dmitry Medvedev in April.Vladimir Putin made it very clear that this would be the last option Moscow would want and Russia would never be an instigator to a new arms race, but would only react."But if we receive only negative answers to our suggestions, and moreover, if there is an additional threat in the form of a new missile shield near our borders, Russia will have to maintain its security by taking certain measures: launch new missile strike systems against the new threats near our borders, and create new missiles," Putin warned.He went on, saying "It's not our choice, we do not want it. And it's not a threat in any possible way. We are just talking about what is awaiting for us in case we can't reach agreement on collaboration. That's it. I repeat, we do not want this at all."Answering an inevitable question about Iran's nuclear program, the Russian PM stressed that the possibility of any country getting a nuclear weapons is a matter of great concern to Russia, so Moscow will proceed to indulge Iran to perform all the activities of their program under the strict control of the international nuclear power watchdog IAEA to make the program fully transparent. But there is nothing wrong with developing peaceful nuclear program.As of now, Russia has no reason to suspect Iran of developing nuclear arms program, he said.Answering a question about Afghanistan, Putin said Russia actively supports and helps the international mission there and the only thing it will never do is to send its forces there.The story about the alleged Russians spies who were extradited from the US this summer was also on the table, and Putin noted that those individuals had done nothing subversive and were deployed to operate in case of a serious diplomatic crisis between the two countries – but nothing of the kind could be envisaged in the foreseeable future."I would like to repeat that those people did no harm to US interests. But I am sure that nobody doubts the fact that any country, including the US, carries out intelligence work," acknowledged Putin, remarking, "By the way, the methods of our intelligence agencies compare favorably with the Americans'. Thank God none of those people, nor any of our intelligence or any other agencies' officers, was involved in the creation of secret prisons or kidnapping and torturing."Giving his assessment on Russian-American relations, Vladimir Putin stressed his positive attitude towards Barack Obama's international efforts, in particular the softening of the negative rhetoric towards Moscow and the scrapping of the previous administration's plans for the deployment of missile defense systems in Europe, a move that alarmed the Russian leadership greatly.Asked about George W. Bush, the Russian premier admitted he liked the previous American President as a person, but reused to share his methods of solving problems and promised to remind him about certain inaccuracies in the recently-published George W. Bush autobiography if he sees him in person.Ten years ago, when Vladimir Putin, at the beginning of his first presidential term, first appeared on Larry King's show he appeared as someone who likes straightforward questions without beating around the bush. This time, King's questions were straight to the point and Putin's answers were as sharp and crisp as always.
You can share this story on social media: