Vitriolic blog post prompts Putin's personal reply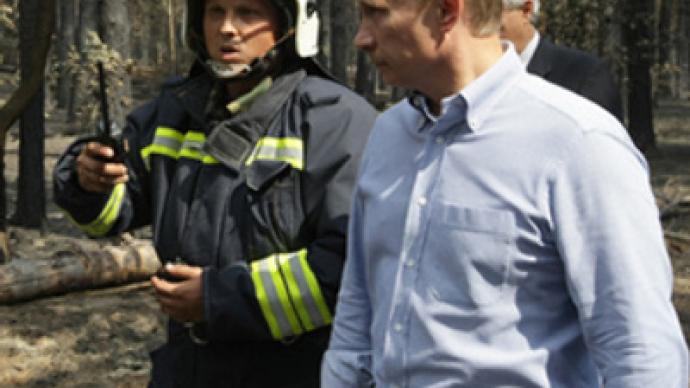 In an unprecedented gesture, Premier Vladimir Putin has responded to a bitter post by a blogger who accused the government of poor firefighting services after raging fires engulfed large territories of Russia.
In his letter, which was replete with coarse language, LiveJournal user "top_lap" says that "in the village, when …Communists were in power, there were three water reservoirs for the firemen, a bell that rang when a fire broke out and, what a miracle, there was a fire-engine."
"And then the democrats came…First thing they did, they filled in the reservoirs and sold the land to build houses. The fire-engine also disappeared; probably it was [nicked] by aliens. The bell was replaced with a phone…which doesn't work as they forgot to connect it," the blogger said. There is still one fireman, though, who has nothing but a helmet and overalls inherited from the communists, he added.
"And that is how it works. About 15 years ago, when a fire broke out in a neighboring village, they quickly sent us a messenger and we all ran there," top_lap noted. "Our firefighter dressed up in his uniform, took two buckets with water (that action still leaves me puzzled), got on his cycle and joined us." The villagers managed to put out the blaze using everything that was available: sand, water, and even "spitting on it".

Firefighters came only five hours later, as they had to go all the way from the town of Tver.
What the blogger wanted to know is where the taxpayers' money is going. "Why…do we keep rolling down to primitive society? What is innovation center Skolkovo for if we don't have simple fire engines?" he questioned.
The LiveJournal user stated that he does not want a telephone in his village and demanded that the alarm bell be returned to where it used to be. "Give me back my bell and dig a pond! I will look after it if the administration can't be bothered, just give me a place for the pond," the man declared.
The blogger also suggested that he should be exempt from paying taxes and assignments to the pension fund, as he said, "I won't survive till pension anyway." The money, he said, would be used to buy a new fire-engine which no one will be able to take away. "It will be ours and we will kill for it if needed," he concluded.
This letter was forwarded to the Kremlin by Aleksey Venediktov, editor in chief of Echo Moskvy radio station. The journalist noted that Russian Internet users are outraged at the way the government is handling the situation with the fires, and top_lap's post is just one example of what people are saying.
Surprisingly, Putin wrote his own response that Echo Moskvy published on its website. In the letter, Putin admitted that it was indeed the authorities' responsibility to address such natural disasters, but cited the unprecedented nature of the recent events as the reason for some of the failures.
"At the end of the workday, breathing in the smoke from the burning fires like all Muscovites are doing, I – with great interest and pleasure – acquainted myself with your evaluation of the situation," Putin said in his hand-written letter. "Overall, I agree with your criticisms."
In his usual sharp-tongued manner, Putin also remarked on the blogger's obscene language.
"Indeed you are an amazingly sincere and straightforward person. You are simply a brick! And, undoubtedly, you are a gifted writer," the premier noted. "If you were earning your living in literature, you could live on [the Italian island of] Capri just like Lenin's favorite writer Maxim Gorky did." However, he went on, "you would not be able to feel safe even there" since in both Europe and in the US people face the same natural disasters.
The premier also made a remark on the blogger's sarcastic comment over his doubts that he would survive until the age of retirement. "Despite all the problems and hardships, I still hope that both of us will last until our pension age," he said.
The Russian Prime Minister assured that financial compensation from the federal budget has already been sent to regions that were damaged by fires. As for the emergency bell, "you can get it immediately from the region's governor," he concluded.
Meanwhile, the story continues to develop and has already become a hit in the Russian Internet community. It is still unclear whether the "rynda" (which is actually a ship bell) was finally set up in the village or not. The Tver region governor Dmitry Zelensky, Echo Moskvy reported, earlier wrote on his twitter account that the bell had been set up. The blogger claimed that it was not true.
It should be noted that top_lap created his LiveJournal page just over a week ago and, thanks to his exchange of letters with Putin, has already become popular – with over a 1000 people following his posts.
You can share this story on social media: