Putin rebuffs crane critics: 'Try to fly it yourselves'
Published time: 9 Sep, 2012 13:56
Edited time: 9 Sep, 2012 18:32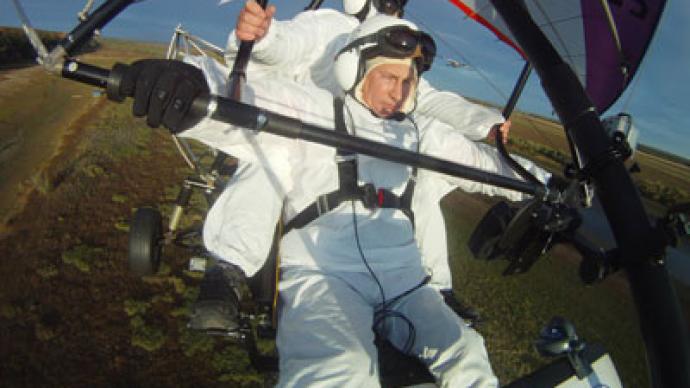 When Vladimir Putin led a flock of cranes in flight from an ultralight, the internet exploded with comments on the stunt, with some making parallels between the Russian electorate and cranes. Now the president has had right of reply.
­"The only ones that didn't fly were the weak cranes. And that was the first attempt. On the second, they all flew," he said smiling. He was responding to a question about what he thinks of outspoken opposition activist and socialite Ksenia Sobchak comparing the birds with the Russian electorate. She noted that 63 per cent of cranes followed Putin while the rest headed south or went to weave nests in parks and boulevards (usual meeting places for opposition).

"To be honest, I have to acknowledge it was the fault of their leader, the pilot, that not all the cranes flew right away, because he accelerated too quickly and too high. They couldn't keep up," the president continued.
A strong sidewind forced the pilot to ascend fast in order not to depart from controlled flight so not all the birds could follow the motorized hang glider, he explained.
"Certainly, there are birds that do not fly in flocks and weave nests separately. So it goes. This is a different problem. Still, there are a part of our population and have to be treated with care – whenever possible," said the president.
On September 5, on his way to Vladivostok where the APEC summit was about to begin, Putin made a brief stop in Siberia's Salekhard to take part in the Flight of Hope experiment, training sheltered birds to navigate the sky ahead of their winter migration to Central Asia.
The image of Russia's head of state leading a flock of birds on an ultralight aircraft caused a storm in Russia's online community, which whipped itself into a frenzy, with thousands of barbed comments about the symbolism of the flight. The web nicknamed Putin "Tsar of cranes" and Photoshopped the head of state sitting on a bird's neck and actually riding a crane.
At the final press conference of the APEC summit in Vladivostok the "crane issue" was raised again and Putin put the story into perspective.
"What is there to say? Try to fly it yourselves," he said.