Shootin' Putin and Blast 'em Chapman – online comrades-in-arms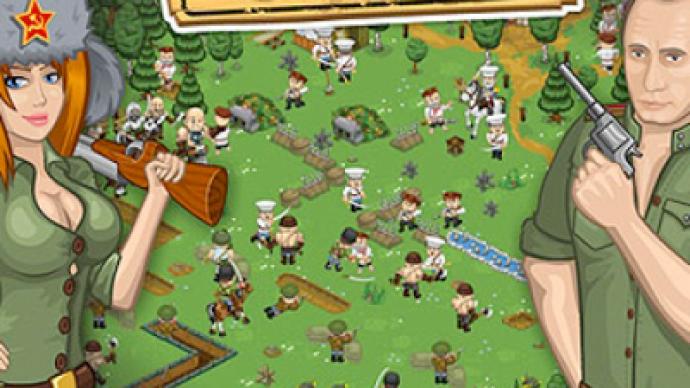 Russia's PM Vladimir Putin and new celebrity Anna Chapman, extradited from the US on espionage charges in 2010, have emerged as characters in a new online warfare game.
The real-time strategy game named "Voinushka", or "Fray", which comes as an application to the Russian social network Vkontakte [In Contact] portrays a young and somewhat macho Putin roaming the cartoonish sceneries of the game toting a gun and clad in a khaki uniform. His task, as in real life, is…well…to set tasks. Putin "is the commander-in-chief, the leader of the game, he is the constant right hand of the player," that is according to Agence France Presse news agency, citing Varvara Zolotova, chief marketing officer at Progrestar Inc., a Russian developing company which owns the game. The game developers chose Putin after doing a banner survey which revealed that Putin's pictures get the most clicks. "Putin is a popular hero, young people really like him both as a political figure and as a person," Zolotova added.Putin is not alone on his warpath. His companion is a red-haired girl in an army fur hat, with a rifle on her shoulder, her khaki uniform not really concealing her other talents. The aide can be recognized as Anna Chapman, the former spy who has been continuously in the limelight since her exposure in the US last summer. Zolotova says that initially the character was not meant to be Anna Chapman at all."The character was drawn without a personality, but people saw them together and thought that she was Anna Chapman," Zolotova said.Putin's administration has found another angle of interest at Voinushka."The authors have not contacted us to ask permission to use the image of Vladimir Putin," Putin's spokesman Dmitry Peskov told the Life News tabloid website.But Progrestar seems confident in its usage of the PM's depiction. "Our game is not for commercial use, so it does not fall under copyright laws," says Sergey Dovgan, the company's commercial director, as cited by the Life News.Dovgan added that the game, launched a month ago, will not target only Russian social networks, but might also appear as a Facebook, or even an iPod application.
You can share this story on social media: