Moscow court postpones hearing of Pussy Riot appeal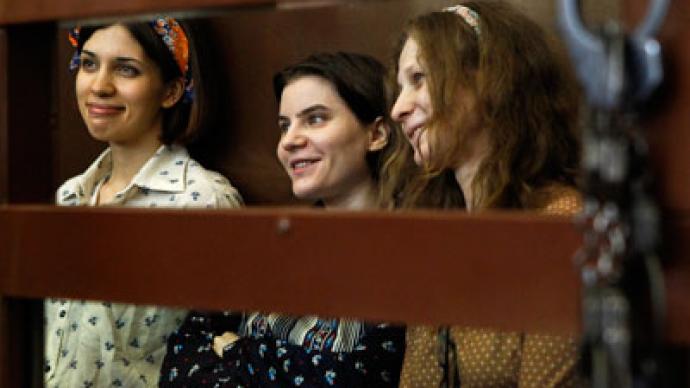 A Moscow court postponed the hearing on the Pussy Riot sentence appeal until October 10, allowing band member Ekaterina Samutsevich to recuse her attorney and hire another one.
Read the full story on Monday's hearing here.The two other women – Nadezhda Tolokonnikova and Maria Alyokhina – are to stay with their current attorney as the trio appeals against a two-year sentence for hooliganism.On the eve of the hearing, a spokesman for the Russian Orthodox Church said that the singers' actions "can't be left unpunished, no matter how you justify them."He added, however, that if the women show "penitence and reconsideration of their action," their words "shouldn't be left unnoticed."It remains unclear whether the court will offer leniency if the singers repent.During their final testimonies in August, the women apologized before those whose feeling were hurt, but said they regret nothing.They also insisted that their "punk prayer", which included the words "Mother of God, drive out Putin", was not a personal attack on the president, but on the political system he created. A Moscow court ruled the song was not a political action, rather hooliganism motivated by religious hatred.
The Pussy Riot members were sentenced to two years in a medium-security prison on August 17 for hooliganism motivated by religious hatred and enmity.Judge Marina Syrova said the girls showed flagrant disregard for church parishioners and the fundamentals of the Orthodox faith.Supporters of the band shouted, "Shame on the Court!" after the verdict was released.The singers had previously accused the judge of being biased, and demanded her recusal from the case. However, their requests were swiftly denied.On September 12, Prime Minister Dmitry Medvedev spoke out against the verdict handed to controversial punk band."Extending the prison time [for the band members] in this case is counterproductive," he said. Medvedev added that the time spent behind bars before and during the trial was enough punishment for the women. Meanwhile, President Vladimir Putin opted not "to comment on the decision of a Russian court."While speaking exclusively to RT, the president switched to "the moral side of the story," saying that "punishment should be proportionate to the offense." He declined to say whether the verdict was fair.  The case has prompted a new bill which will introduce a punishment of up to 5 years in prison for public blasphemy.The story has sparked international interest for months. High-profile figures, actors, and singers have come out in support of the women. Pussy Riot fans and supporters have called on those who oppose the sentence to gather outside Khamovnichesky Court wearing homemade T-shirts and balaclavas.
You can share this story on social media: