6.5 quake hits off Puerto Rico coast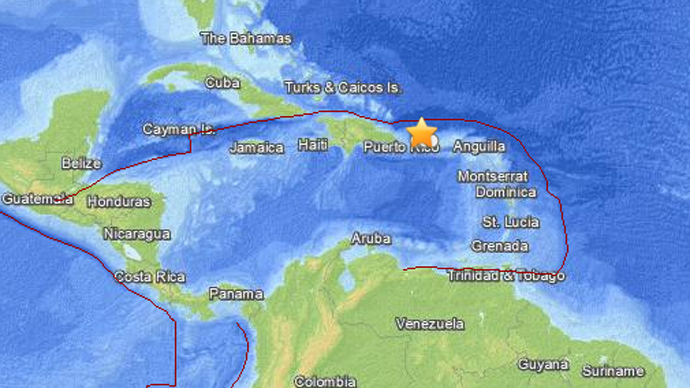 A strong 6.5-magnitude earthquake struck at sea off the Puerto Rican coast at a shallow depth of less than 30 km early on Monday, the US Geological Survey reports.
The quake hit some 56 km off the northern coast of the island. The capital, San Juan, where 400,000 people live is located on the same side of the island.
The jolts caused some minor damage, with some people reporting items falling from shelves and similar incidents.
The Pacific Tsunami Warning Center said the quake could trigger a local tsunami.
"There is the small possibility of a local tsunami that could affect coasts located usually no more than a hundred kilometers from the earthquake epicenter," the tsunami center said.
A later update said no tsunami was expected at all.
I am ok - thanks for asking. Felt pretty scary - not the worst we've ever had -but it was quite scary - woke me up! http://t.co/hHfidzaEKp

— Zoraida F (@zoryu2) January 13, 2014
The Puerto Rico quake on Monday comes almost exactly 4 years after a powerful 7.0-magnitude quake devastated another Caribbean island - Haiti.
The 2010 disaster took more than 100,000 lives and caused a humanitarian catastrophe in the nation, which remains one of the poorest in the world.
You can share this story on social media: