Israel boycott? World's largest children's books publisher 'erases' Jewish state from map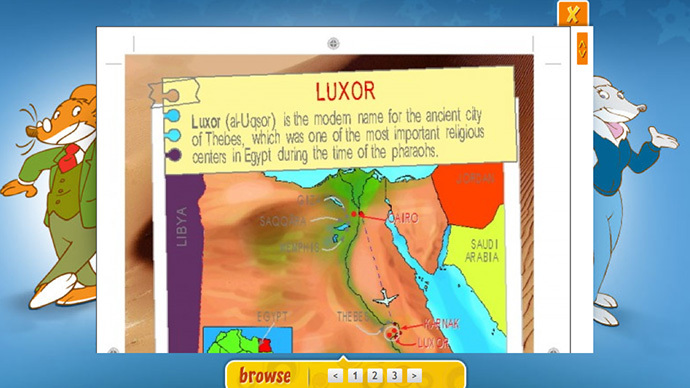 The world's biggest publisher of children's titles has skipped Israel from their maps in a school book, a mother of one of the readers found out as she failed to find her motherland to show her little son, the Times of Israel reported.
"I wanted to show my son where we lived in the Middle East, but I didn't see Israel on the map; instead it said Jordan," Adina Golombek, a Jerusalem resident who moved to Israel from Canada last year, told the newspaper.

"Thea Stilton and the Blue Scarab Hunt," published by Scholastic Inc, is an adventure story of the Thea Sisters, five teen-aged mice, who are invited to Egypt to participate in an archeological excavation.

As the story takes place in the Middle East, a map is provided at the beginning of the book. It outlines modern Egypt and its neighboring countries – all except for Israel. While Sudan, Libya, and Saudi Arabia can been seen in the right spots, Israel is fully covered by Jordan with the territories of both states evenly colored in red.  

A senior vice president for corporate communications at Scholastic, Kyle Good, has told the Times of Israel that the company is now trying to find out if "this will be corrected" and "the timing of reprints".

"The Geronimo Stilton series is published in Italy and Scholastic translates the books for the US audience," Good said in an emailed comment. "I'm awaiting a response from the editorial team regarding the timing of reprints and whether this will be corrected. I will get back to you as soon as I have their response."

Scholastic, founded in Pennsylvania in 1920, is the world's largest publishing companies known for publishing educational materials for children, parents, schools and teachers. It distributes children's books through its book clubs, teaching resources and popular book fairs held inside many North American schools as well as online.

The company has exclusive publishing rights for the Harry Potter series in the United States.
It is not the first time Israel has not been found on the world's map.

According to a recent study, 96 percent of Palestinian school textbooks did not mention Israel by name in their maps. At the same time, 87 percent of Israeli school textbooks did not have lines between Israel and the Palestinian Territories, or did not name it at all.

Another similar Israel-missing case, involved Apple and its much-anticipated operating system, iOS 7, presented in September. Shortly after release, it was revealed that the new world clock options on the iOS 7 listed Jerusalem without a country.