Two satellites lost: Proton rocket launch fails to deliver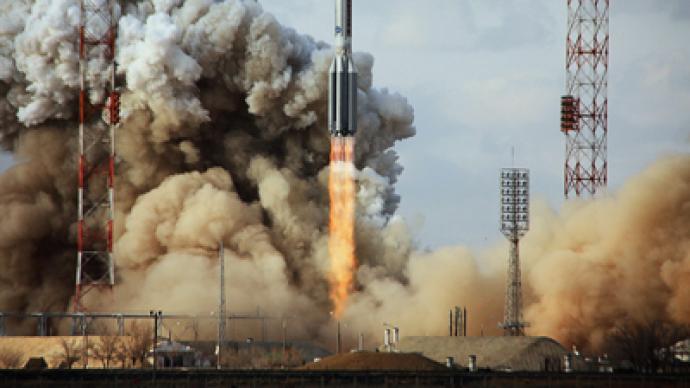 The launch of a Proton rocket booster from has ended with the failure of the upper stage to deliver two communication satellites into the intended orbits. All Proton launches have been suspended until an investigation into the incident is completed.
The Proton-M rocket with Express MD2 and Telcom-3 communication satellites was launched at 20:31 GMT from the Baikonur Cosmodrome. All stages of the booster worked correctly and satellites with Briz-M uppers stage were delivered into an interim orbit. The final stage started with two successful engine firings, but the last third failed to eventuate.Russia's space corporation Roscosmos has confirmed that satellites were not delivered into their orbits and are considered lost. An emergency commission is investigating the contingency event.The Express MD2 satellite was designed at the Khrunichev Space Center in alliance with Italy's Thales Alenia Space to retransmit various communications flows to broadcast on the territory of Russia.The Telcom-3 satellite was made by Russia's Reshetnev Information Satellite Systems for Indonesia's РТ Telekomunikasi Indonesia Tbk. It was supposed to provide TV broadcasts in Indonesia and the Indochina region.The Russian space industry has suffered a number of considerable satellite losses over the last two years. On December 5, 2010, another Proton-M rocket deviated from the course by eight degrees. As a result, three GLONASS navigation satellites fell into the Pacific. That loss was particularly painful since these three were the last to complete the 24 satellite group to make GLONASS fully operable around the globe.In 2011, Russia made four failed launches. In February a military satellite Geo-IK-2 was lost, in August a Progress M-12M cargo ship failed to make it to the ISS and crashed in Siberia, in November Roscosmos lost the Phobos-Grunt automatic space station and, in December, a Meridian-5 communication satellite.The latest emergency could result in a major system shake-up and even dismissals at the Khrunichev Space Center, which designed and manufactured the Briz-M upper stage. The series of emergencies last year forced Roscosmos to introduce additional acceptance measures to ensure maximum quality of the equipment. However this latest failure puts the effectiveness of that step under question.