Revolution in the balance: Thousands on Tahrir await election results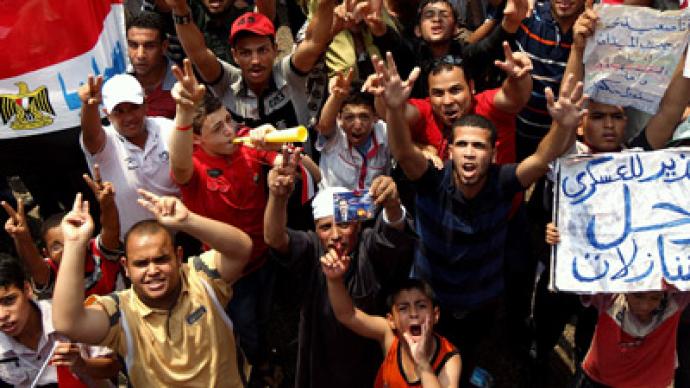 Tensions is high in Egypt as thousands have flocked to Cairo's Tahrir Square in anticipation of the country's presidential election results. The country remains in a political deadlock amid fears the results could trigger a fresh bout of violence.
Authorities have deployed extra security forces ahead of the official announcement of the disputed election results. Government employees have been sent home, and banks and shops have closed ahead of the announcement, asboth candidates have called on their supporters to take the streets in a demonstration of strength.Supporters of Muslim Brotherhood candidate Mohammed Morsi have vowed to embark on a "new revolution" should rival Ahmed Shafiq take the presidency. They say Morsi's loss will prove that the ruling military tampered with the polls.Egypt's electoral committee has said that the results of the much-contested presidential vote will be announced Sunday. The new president was to be declared on Thursday, but the announcement was pushed back by the committee to investigate multiple allegations of election fraud. The delays have given rise to suspicions that the interim military government is using stalling tactics to cling to power. Last week Egypt's military leaders dissolved parliament and claimed legislative power.Mohammed Morsi and ex-PM Ahmed Shafiq have both claimed victory by a narrow margin, and accuse each other of foul play.The country remains divided over the two candidates amid fears that neither will bring about the changes that the revolution sought to achieve. A win for the Islamist Muslim Brotherhood could mean the instatement of Sharia law, while a win for former PM Shariq could forebode the return to a Mubarak-style regime.There is also the possibility of a new election being called by the election commission in light of both parties' claims of polling irregularities.
'The new president will be the weakest in history'
Freelance journalist Hugh Miles told RT that no matter what happens on Sunday, the "outcome will not be satisfactory.""Whoever is named president, the other side is going to be outraged." He added that "this was a very troubled moment in Egypt's so-called transition." Miles pointed out that the results of the elections could give rise to a number of possible scenarios, namely a second revolution that could spread to the military in the "the worst-case scenario."Citing the military leaders' decision to dissolve the parliament and take legislative power into their own hands, Miles stressed that "whoever the president is he is going to be the weakest president in history."He highlighted the "burning issue" of the new Egyptian constitution, which still remains unwritten, as the "big prize" in Egyptian politics."Whoever writes the new constitution will set Egypt on the railway lines for the foreseeable future – not just the next presidency," Miles concluded.