Probe into death of hockey star continues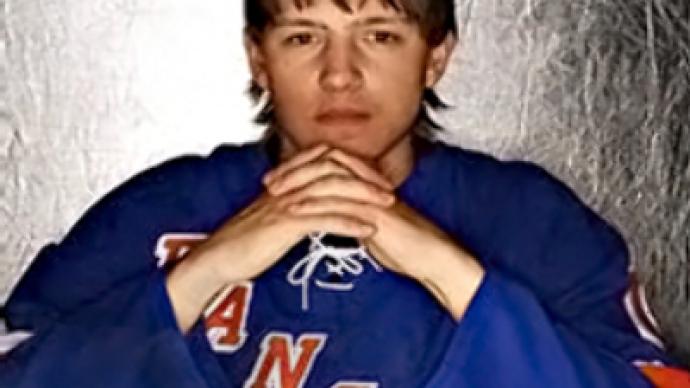 The sudden death of Aleksey Cherepanov in October shocked the ice hockey world. The 19-year-old died while playing for Omsk Avangard in Russia's KHL (Continental Hockey League). A month after the death, many questions remain unanswered. On Friday the Vic
Shalayev: This is the first time in the history of our league that we have held such a press conference. My congratulations. We will be able to communicate with you directly, and at the same time to communicate with all sports fans and sports experts through the internet, because they can watch this press conference live on the KHL website.
Ladies and gentlemen, today we are going to talk about some serious things. We'll start by relating to you some details regarding the investigation into Aleksey Cherepanov's death.
Second, we will discuss the examination young players in our league go through. Finally, during the break, the league has processed a vast amount of data regarding the physical stress players have to endure, so today you'll get some useful statistics on that.
Alright, let's start with the Cherepanov investigation. As promised, we proceeded with our internal investigation into that accident. We kept in touch with the police investigators, and today we can tell you the following.
On Nov. 14 (which is today), a decision will be made not to start a criminal prosecution. Please be careful with what we tell you, because this is all very important, and you should not misinterpret or misrepresent what you hear.
Again, a decision will be made today not to launch criminal proceedings. Following that, the prosecutor will cancel that decision, and the investigation will continue.
Investigators believe there is a need for further investigation into Aleksey Cherepanov's death. The investigation team isn't satisfied with the report the forensic team initially filed. Currently, a more comprehensive forensic examination is under way. In other words, the investigation team made a decision to add more specialists in various fields to the initial group of forensic experts for a deeper and more thorough examination.
Therefore, we cannot tell you decidedly what caused Aleksey Cherepanov's death. This won't be clear before the comprehensive examination is completed in late November. As of today, we can definitely say that no blame is attributed to ambulance paramedics, local doctors at the Sports Palace in Chekhov, and Avangard's team physicians. All these medics were very professional and did everything they could do.
The fact that there was no ambulance present at the arena, and that the ambulance which arrived later did not have special equipment (things which people talk about so much), was not a direct cause of Aleksey Cherepanov's death.
This doesn't mean, however, that those responsible for such shortcomings will not be punished. The penalties announced earlier remain effective. We still believe the League was right to call for the resignation of the Sports Palace director, the club manager and other officials involved.
Also, we believe after we get the final report from the forensic team, we'll have another press conference, and, very probably, by that time we will be able to give you the names of people found guilty, if there are any.
Now, let's go on to the medicals KHL players went through. As we mentioned earlier, the Cherepanov case was not the main reason for these checkups and for creating the KHL Medical Centre. The Medical Centre was set up back in July; we just didn't have an opportunity to do this earlier.
During the November break, we had 67 young KHL players take medicals. Before I give you the results, let me tell you that we used state-of-the-art equipment, state-of-the-art technologies and methods.
The examination took place at the Health Care Ministry Rehab Centre. Professor Sinitsyn and Professor Preobrazhensky oversaw the tests. Biochemical, immunologic and other sample analyses were performed at the Efes Centre by a well-known specialist, Dr Osipova.
Today, we have a comprehensive database on these 67 players' physical condition.
The results are as follows: there are five players that raise concerns.
Before we you the details on the situation with these five players, let me just tell you that there are five more players that will have to repeat their tests for a more thorough examination. Also, there is probably one or two players who will have to give up playing ice hockey altogether. It's not as bad as it may sound. We cannot put players' lives and health at risk.
All the information collected during the tests will be made available to club physicians, and they will have a final say on the issue. The liability for these players' future is with their team physicians.
Granted, this may be disheartening for these one or two players. Yet we promised to be frank with you and not to conceal anything.
Now, we'll give you specifics about these medical checkups and things that concern us. Nashville plays in Edmonton, flies 1,700 km and plays in Colorado on the following day. Then, Ottawa plays in Nashville, flies 1,700 km and plays in Colorado on the following day. In our view, there are flaws in our calendar. Well, let me demonstrate this with some facts. With Columbus Blue Jackets, 50 percent of their regular season games are doubleheaders. For another 11 NHL clubs, 40 percent of their regular season games are doubleheaders. Even with Colorado, which has the least number of doubleheaders, 20 percent of their away games are doubleheaders. And their flight distances are comparable to those in Russia, or even bigger.
Well, some coaches didn't bother to analyze thoroughly the situation, as it traditionally happens – "if it's a defeat only a referee or a calendar should be blamed, for sure it's not a coach's fault." Of course, only a referee or a calendar should be blamed.
Well, let's analyze the Lada club. Last year the Lada club played 24 games over this period of time. This year, they had 22 games. Now pay attention to an interesting figure! Last year, the Lada club spent in the air 24,770 km when travelling. This year they covered 9,960 km, two and a half times less. Then, last year the Lada club made 17 journeys, this year, it made 15.
Finally, one more interesting figure: it's an "average flight of journey distance" in the KHL and the hockey club, Lada. 1,457 km was Lada's average flight distance last season. This year, a calendar plans 660 km for this club, what is less than half. And after that we are told that such a schedule is super intensive and flights are unbearable and so on and so forth. In my view, the figures say the opposite. We have enough materials on this matter; I wouldn't like to dedicate the whole press conference to voicing all information we have. I think we'll ask our internet service to publish all this information on the site of the Continental Hockey League. Please work with this information – you'll find it much interesting there. Investigators told us that by the end of the month all the finding would be at our disposal and consequently at your disposal. Now I'm eager to answer your questions.
Q: You've mentioned that today the criminal proceeding will be dropped and the file will go to the Prosecutor General's office. Is it only an issue of regulations?
Shalayev: Fine. I am going to explain this in details so that you have a better understanding. In fact, there's a procedural timeframe for consideration of any criminal investigation. This term expires on the 14th November, but the investigation is not over yet, and further inquiry is required. Today it'll be made a formal decision to drop criminal prosecutions, and soon after they'll be launched again to set a new procedural timeframe for further investigation.
Q: What's the procedural timeframe?
Shalayev: Police investigators told us that all the findings will be at our disposal by the end of November and consequently at your disposal.
Q (Russia Today): Will the testing be carried out during the whole of the next year?
Shalayev: No, only during this season. In December we'll continue [testing] of 60 to 70. We are supporting only young players. In December the same number will be tested, when the clubs get knocked out of the play-off stage, we'll be actually testing all the players. And during this season we would like to test all the players as the task is set for our Medical Centre – we should have certified and provided the necessary passport for every KHL player who has a professional contract with it.
Q: Will it be carried out at the clubs?
Shalayev: Only here. It would be a pleasure for us… It does not mean we don't trust the clubs – the thing is that the necessary modern equipment is available only here. Personally, I have been subjected to all the tests our players undergo – obviously my health is not as good as theirs, but I really went through all that – it took me about four hours. It is a pretty intensive process. I hear that some players were even a bit scared when catheters were inserted into them, with stains. Some of them even asked if the catheters could be inserted when they were lying down.
Anyway, there was nothing scary about it, but the equipment I have seen and the methods applied indeed impressed me. It's at a very high level.
Q: Could you please elaborate on that?
Shalayev: My colleague will better answer that.
Petr Lidov: I mentioned the principles. The players are subjected to the following tests: cardiography during their training – when they run on the track; to functional examination of their heart by using good equipment and by good specialists who assess them partially from their subjective point of view; computer tomography with contract substances, with the players' signing the documents about the necessity of examining the coronary arteries to find possible anomalies of the coronary vessels and heart problems. Those are the main methods of instrumental diagnostics at the screening stage. In addition, there is a laboratory genetic examination, with many markers examined.
After that the results are assessed. Besides, the players are asked a number of questions in a form of special cardiology questionnaires.
Q: Who pays for the medical check-ups?
Shalayev: All the costs are covered by the KHL. However, when mature players join us, it will be up to the clubs.
Q: When you are testing the mature players [veterans], what if you reveal problems with their health – what will you do? Are their any rules or regulations? Will you recommend that they remain in ice-hockey?
Shalayev: We do not invent anything as there are rather precise procedures for that. We are not an agency to issue a verdict. We tell the clubs' doctors [about the results], because a player has his contract not with the League but with the club. So, we tell the employer about possible dangers and not only the health of their employee, but also that their freedom could be put at risk, because they may get a prison term under certain circumstances – should anything happen. So, we tell them about the results, but it's up to the club to take a definite decision.
At this point we have agreed that if we happen to see an extreme degree of danger for the health of a particular player, the KHL will have the right to prohibit the club's entry of the player. And it will be up to the club to decide what to do with the player, whether to discontinue the contract and/or pay him a compensation or to arrange his treatment. At the same time, the KHL may ban the player from playing, and if it is necessary, we'll take such steps, of course.
Q: In such cases is there an insurance compensation package for the player?
Shalayev: Nobody reads the Rules… It's clearly stated that in the case where a player fully loses the capacity to work professionally, the compensation will be adequate. From the very start it was said that the League would be socially orientated and would protect the players' interests by all means. Players are a priority for us.
Q: Will only Russian citizens be tested or will it affect foreign players too?
Shalayev: Foreigners included. We don't divide our players into Russian and foreign citizens. Let me say this again, all the players who have contracts with the Kontinental Hockey League will be tested.
Q: How did your own health test turn out?
Shalayev: Thank you. You'll wait a long time [smiles]. Thank you very much.
Personal interview
Q: Vladimir Timofeyevich, this season, concerning the all-stars match, will our citizens play? Will you elaborate on that?
Shalayev: At this point we have a vote on our website to let the fans decide on the format of the future match, whether it will be the West vs. East, traditionally, or a new format – Yashin Team vs. Gagr Team. So far, as I know, the second option is winning. After the voting about the format is over, we'll let the fans decide on the starting line-ups. It will be up to the coaches to determine the immediate substitutes (second fives), and it will be up the KHL to decide about the rest.
Q: Was it done following the NHL model or is it something new?
Shalayev: It's ours. I believe both Yashin and Gagr will be able to invite worthy guys to their teams.
You can share this story on social media: