Putin in tune with charity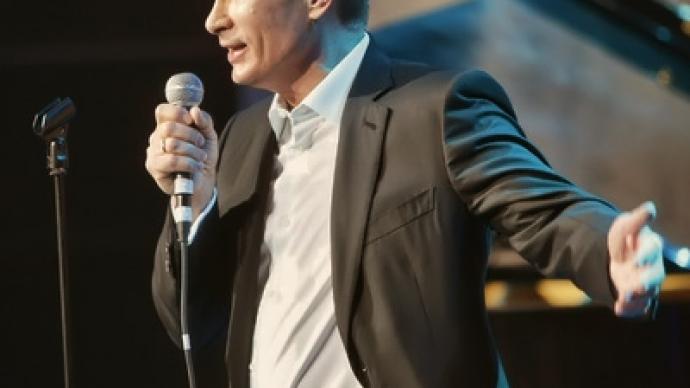 The Russian prime minister is used to taking to the stage, but this time it was not for one of his speeches. Vladimir Putin made his audience sit up and take note, as he sang at a charity fundraiser.
The reception at an ice stadium in St. Petersburg was dedicated to fighting children's cancer.International celebrities including Kevin Costner, Gerard Depardieu, Mickey Rourke, Sharon Stone, Kurt Russell, Vincent Cassel, Monica Belucci, Ornella Muti, Goldie Hawn and many others attended the benefit concert. Many of the stars are actively involved in charity work which draws needed attention to children's oncological and ophthalmological diseases.When the hostess approached Putin's table and asked him to sing for the audience, his immediate reaction was "are you kidding me?"But the hostess was determined to get the prime minister on the mic and reminded him about the songs he sang with the Russian sleeper agents extradited from the US last summer. Putin attempted to evade the proposal by saying that the singing she was referring to had come from the heart. However, after seeing the pictures of ill children shown to the audience on the big screen, he took to the stage."Like the majority of people I cannot – but do like to sing and to play – so you'll have to rough it," he warned as he sat at the piano and played the beginning of Blueberry Hill. The tune was immediately caught by Maceo Parker's jazz band. The prime minister then took the mic and sang it in English himself.Putin returned to the piano to sing in Russian "From What the Homeland Starts" – the song he sang with the exposed Russian agents.The audience loved his performance and showed their appreciation with a standing ovation and applause. Many recorded the one man show on their mobile phones.
On December 1, Putin confessed to US chat show host Larry King that he does study some songs in English with his language tutor.When the concert was over Putin took Sharon Stone by the arm and together with other guests they went on stage to sing a Russian song about cosmonauts, "Grass Near Home".Martyn Andrews, our entertainment expert and host of RT's cultural program "Moscow Out," thinks that Putin's gesture at the charity event is great for his reputation, as he's mostly stereotyped as cold and serious."It's not the first time he sung like that," Andrews said. "The more he does things like this, the more people can connect with their leader."
You can share this story on social media: