Living below poverty line in Georgia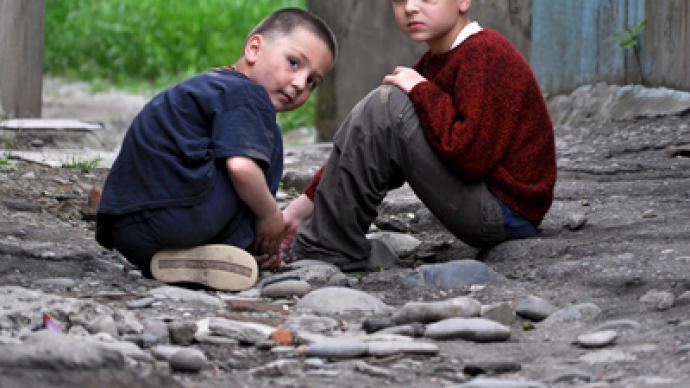 Georgian authorities claim the fight against poverty is one of their top priorities. But even foreign help does not appear to be making a dent in the deep desperation experienced by many Georgians.
The small, sunny country of Georgia has long been known for its fresh, organic produce. But recently, it seems the fruits of Georgia's economy have been rotting away."People come to the market and don't buy anything, because they can't afford it," says Tsiala, a market vendor in Tbilisi. "Out of all the goods here, only the potatoes and onions are local, everything else is imported from Greece, Turkey and Iran, and it's so overpriced. We stay here anyway, because we have to try and sell something so we can eat."Ketevan Chubinidze, a common Georgian mother, knows all about having nothing to eat. She has not even been able to afford apples for her handicapped daughter, as they are too expensive."I have no home, no job, no money, and no social support! All I can do is sit outside a church and beg, so I can feed my sick child," says Ketevan. "The only money we get is my pension – around $30 a month, and Mariam's pension. Altogether it comes to around $75 a month. With that, we have to eat, pay the bills and buy medicine for Mariam, which is impossible."Mariam has cerebral palsy and is in desperate need of surgery. It can only be performed in Germany, but her family has no hope of raising the money. "She's already had eight operations, and needs five more," adds Ketevan. "But I've almost lost hope. I even went to a charity TV show, but they turned me down."Ketevan and her family live well below the poverty line. And in this, they are not alone. The Georgian government has a growing social welfare system that includes cash benefits, free or low cost health insurance, pensions and vouchers for day care.These social benefits are aimed at the poorest of the poor.However, a 2009 World Bank Poverty Assessment showed that only 30 per cent of those citizens actually receive cash assistance.Ketevan is a professional singer, and in these tough times, music is all she and her daughter have.But the only real music to their ears would be an offer of help, something neither has much faith they will hear anytime soon.
You can share this story on social media: