Idaho potatoes and pink fur hat: Superpower gifts in run-up to Geneva 2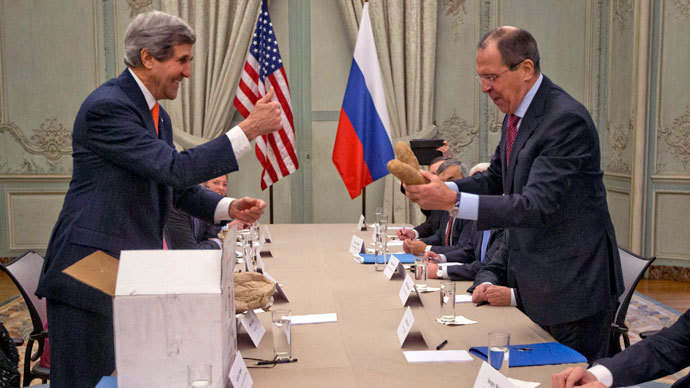 Attempts to alleviate moods before the upcoming peace conference on Syria were aided by potatoes and a flappy fur hat, as Russia and the US exchanged funny gifts ahead of the historic talks.
There had always been a marked desire to get the rebels to sit down with the government. But for the first time, Russia and the US finally decided that their own different approaches needed to be put aside in favor of coming up with concrete measures both agreed would surely help ease the tensions in the run-up to the peace talks later in the month.
Russian Foreign Minister Sergey Lavrov and the US Secretary of State John Kerry were at the forefront of that effort, both in surprisingly high spirits, apparently fatigued with arguing over rights and wrongs in the three-year Syrian conflict.
And so, shortly before the Monday meeting at the residence of the US ambassador in Paris, journalists were suddenly told to leave the room. A few minutes later, though, they were called back to witness a historic moment.
From a cardboard box, Kerry produced two gigantic Idaho potatoes. Both delegations reacted positively to the humor of the situation, as the US representative recounted a phone conversation he had had with Lavrov on the subject of potatoes.
Not wanting to disappoint their counterparts, the Russian delegation chose state department spokesman, Jen Psaki, as the target of their own present – a pink 'ushanka' (a Russian fur hat with long ear-flaps), in baby-pink and complete with a red star at the front.
Russia responded w/ #Ushanka Hat gifted to @statedeptspox to stay warm&fancy during #US#winterstorm up to @Sochi2014pic.twitter.com/yPmWTxydyE

— MFA Russia (@mfa_russia) January 13, 2014
What followed were talks behind closed doors, where the two figures were joined by Arab League and UN envoy to Syria, Lakhdar Brahimi.
The trio of Lavrov, Kerry and Psaki were later seen in an atmosphere of jokes and smiles as they posed with their presents.
The potato and ushanka made the rounds and journalists at the press conference were later quite curious about what the Russian foreign minister would do with the potato. Lavrov joked and suggested that since the giant, elongated vegetable actually resembles a carrot, it is not outside the realm of possibility that it would be used in the "carrot and stick" approach to anyone who wishes to stand in the way of progress at the Geneva 2 talks.
The light atmosphere had already been noted by the Russian foreign ministry's deputy press office head, Maria Zakharova: the fur hat "was the Russian delegation's answer to the American potato… everyone is in great spirits," she said on her Facebook page, saying in the post that "she hopes [the potatoes] are a good sign."
You can share this story on social media: