Netanyahu postpones ground operation in Gaza for 24 hours – reports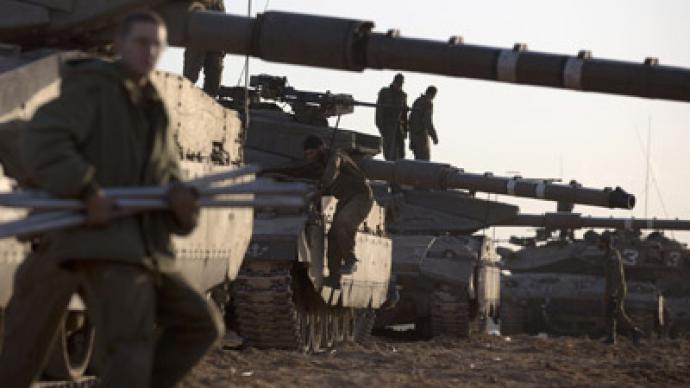 Israel's PM has reportedly pushed back by 24 hours an IDF ground invasion into Gaza, RT's Middle East bureau chief said. The announcement precedes a series of critical international negotiations pushing for a ceasefire between the two sides.
The postponement of the military ground offensive coincides with UN chief Ban Ki-moon's peace talks in Cairo, which lobbied for an immediate ceasefire. Ban is expected to arrive in Jerusalem on Tuesday before traveling into Gaza to assess the humanitarian situation in the Palestinian territory.US Secretary of State Hillary Clinton is due to arrive in Israel for emergency talks with Israeli Prime Minister Benjamin Netanyahu on Wednesday. She is also scheduled for talks with Palestinian authority figures, but will not meet with any representatives of Hamas. Washington regards the organization as a terrorist group.A delegation of Arab League representatives arrived in Gaza on Monday in a gesture of solidarity with the Palestinians who have been under Israeli bombardment since last Wednesday.They discussed a truce that is set to be announced on Thursday, which Hamas has already agreed to in principle, an Egyptian official knowledgeable on the matter told Ahram Online. He added that the "details were still being worked out."
US, Russian stalemate in UN Security Council
The UN Security Council was deadlocked by a stalemate over the Gaza crisis during a meeting in New York on Monday night. Russia warned it may call for a resolution vote if an Arab League proposal to end hostilities is not approved by Tuesday morning.If the resolution goes to a vote, it could lead to a diplomatic clash between Moscow and Washington reminiscent of Russia's repeated vetoes of UN resolutions on the Syrian conflict.Following the meeting, Russian Ambassador to the UN Vitaly Churkin intimated that the US was trying to "filibuster" progress towards a ceasefire."One member of the Security Council, I'm sure you can guess which, indicated quite transparently that they will not be prepared to go along with any reaction of the Security Council. Somehow, allegedly, that would hurt the current efforts carried out by Egypt in the region," Churkin said.
Hamas and Israel reportedly made progress during negotiations over the weekend, but both parties have yet to reach an agreement. Tel Aviv has demanded that Hamas cease all attacks on Israel for the next 15 years, and the right to target terrorists in Palestinian territory. Hamas refused those terms, and called on Israel to lift its longstanding blockade of Gaza.
You can share this story on social media: