Polish leaders apologize to Russia for 'outrageous' attack on Warsaw embassy
Poland has offered an apology to Russia for an attack on its Warsaw embassy by nationalists on Monday. Both the Polish president and prime minister condemned the incident publicly as "an unacceptable act of aggression."
A number of nationalist demonstrators hijacked a march of thousands of people on Polish Independence Day and attacked the Russian embassy in Warsaw.

Protesters shouting anti-Russia slogans hurled stones at police and attempted to scale the walls of the embassy building. Police eventually dispersed the mob with rubber bullets and pepper spray and arrested around a dozen people.

President Bronislaw Komorowski apologized to Russia for the "acts of hooliganism" witnessed in the Polish capital and said the incident had been detrimental to the image of Poland on the international stage.

"I need to apologize on behalf of the Polish state," Komorowski told Polish radio station RaioZet, branding the unrest as an "absolute scandal." Moreover, he said that some were attempting to use the incident "to create the impression that Poland is a Russphobic" nation.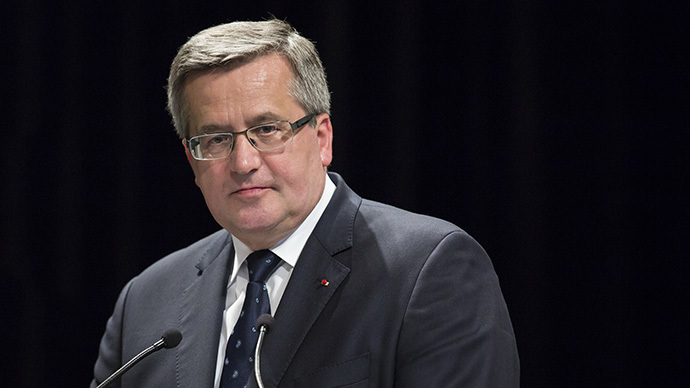 Komorowski also suggested changing Polish law to prohibit demonstrators from covering their faces during protests unless they have a good reason to do so. 
Poland's PM Donald Tusk followed suit, slamming the riot as an "unacceptable act of aggression."

"We want to express our regret over the incident. Despite the emotions felt by various groups of people demonstrating on Independence Day, these kinds of actions must not take place," he said. Warsaw authorities who initially allowed Monday's march moved to ban the event in the wake of the violence.

Russia sharply condemned the violence on Tuesday, demanding compensation for damages to the embassy and summoning Polish Ambassador Wojciech Zajaczkowski to the Ministry of Foreign Affairs. 
An eye for an eye?
Russia's Ministry of Internal Affairs reported on Wednesday that three people had been arrested in the center of Moscow for "disturbing the peace" and throwing flares at the Polish Embassy.

However, the Polish embassy's security team did not report anything out-of-the-ordinary on the premises.

"The situation is normal, we have had no problems, security has not reported any disturbances," the Polish press secretary told Interfax.

Tensions still run high between Russia and Poland more than two decades after the fall of the Soviet Union and the collapse of communist rule in Eastern Europe. Demonstrators who attacked the Russian Embassy resent Poland's eastern neighbor for World War II atrocities and occupation during the Soviet era.