Venezuelan police fire teargas as protesters clash with Chavez supporters (PHOTOS)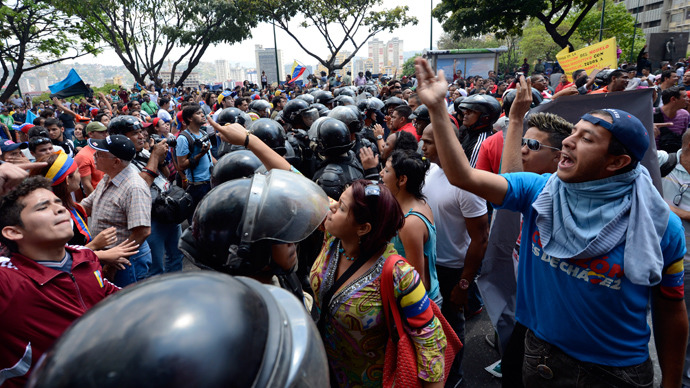 Police fired teargas to disperse several hundred of anti-government student protesters who clashed with supporters of late President Hugo Chavez in the Venezuelan capital Caracas, ahead of the upcoming snap presidential elections.
At least 300 students marched towards the election board's headquarters in central Caracas to demand that the government not interfere in politics and to request that the electoral commission eliminate requirements that voters have their fingerprints recorded before voting. Students rallied carrying signs including "Free and fair elections" and "Nicolas is a liar" – referring to Chavez's hand-picked successor, Nicolas Maduro.
They encountered over a hundred Chavez supporters, who began hurling stones, bottles and eggs at them after which fistfights broke out.
The students surrounded by splinter groups of Chavez supporters were trapped, as nearby side streets were blocked. "It's horrible, they're attacking us," said 19-year-old student Boris Walcheff.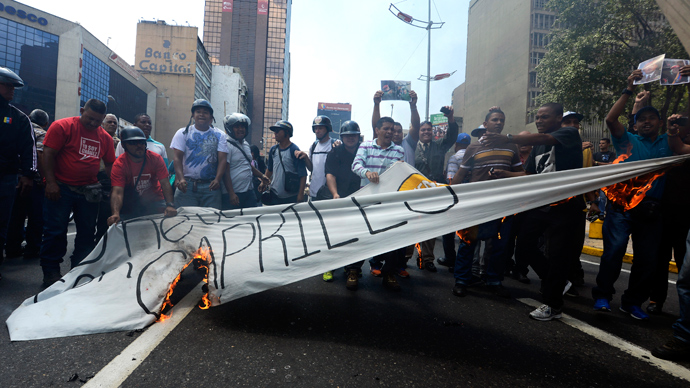 Police fired three canisters of tear gas and used plastic bullets on government supporters to disperse the crowd, forming a cordon between the two sides. No casualties were reported.
The unrest comes ahead of an April 14 vote to replace the late President Hugo Chavez, who died from cancer two weeks ago after a protracted treatment in Cuba. The acting president Nicolas Maduro was named as a preferable successor by Chavez before he died. Maduro promises to continue the late president's radical socialism in Venezuela. His opponent, Henrique Capriles is the leading opposition candidate, who lost to Chavez in the previous election.
Capriles, who unlike Chavez and Maduro comes from a wealthy family of businessmen, is a free market proponent and disapproves of the regulation of the economy as practiced by Chavez. If he takes office, Capriles is also expected to change Venezuelan foreign policy dramatically, possibly strengthening relations with the US.
In the most recent Venezuelan election last October, Capriles got 44 per cent of the vote, giving Chavez a close shave – the incumbent winning with 54 per cent.
The ongoing campaign has been marked by an unpleasant atmosphere, with both sides trading bitter personal accusations as they rally supporters for the vote.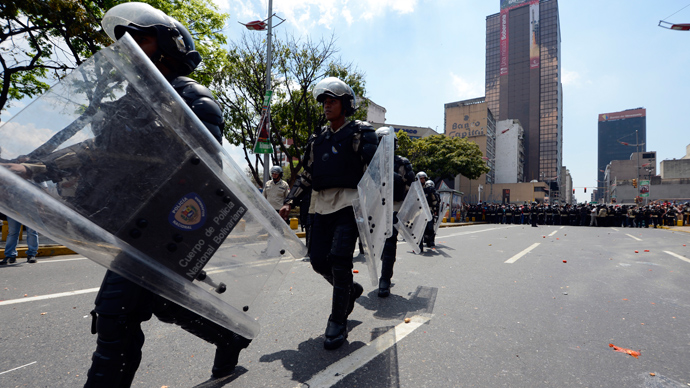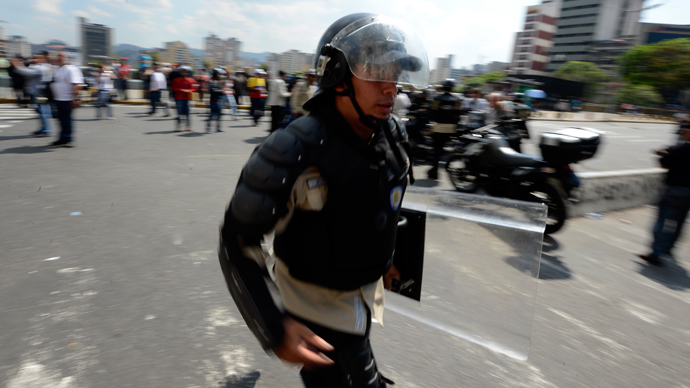 You can share this story on social media: