Capriles joins Venezuelan presidential race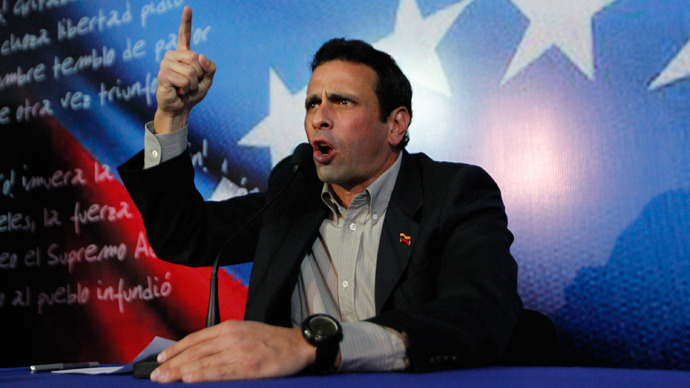 Venezuelan opposition leader Henrique Capriles Radonski has officially announced that he will run in the snap presidential elections that will take place April 14. This will be the second top office bid for pro-American opposition leader.
On Sunday, Capriles told a news conference that he will challenge late leader Hugo Chavez's hand-picked successor Nicolas Maduro in the upcoming vote.

"I am going to fight," Capriles, the 40-year-old governor of Miranda state, said. "Nicolas, I am not going to give you a free pass. You will have to beat me with votes."

Capriles, who unlike Chavez and Maduro comes from a wealthy family of businessmen, is a free market proponent and disapproves of the regulation of the economy as practiced by Chavez. If he takes office, Capriles is also expected to change Venezuelan foreign policy dramatically, possibly strengthening relations with the US.
In the most recent Venezuelan election last October, Capriles got 44 per cent of the vote, giving Chavez a close shave – the incumbent winning with 54 per cent.
In his recent remarks the opposition leader lashed out at Maduro, accusing him of lying and illegitimately occupying the interim leader`s place.
"I tell you clearly, Nicolas, I am not going to speak of the times you lied to the country, shamelessly," Capriles said. "The people have not voted for you, boy." Speaking to reporters, Capriles accused Maduro of using
"the body of the president for political campaigning." Maduro earlier announced that the body of the late leader will be embalmed just like Lenin and laid in state in the 'Mountain Barracks' where he devised a failed coup in the early 1990s.
On Friday, hours after the state funeral of Hugo Chavez, Vice-President Nicolas Maduro was sworn in as acting president of Venezuela. Given the high support Chavez enjoyed, many are viewing Maduro as the race's favorite.
Maduro was one of Chavez's most loyal associates. In 2006 he became Venezuela's Foreign Minister and in 2012 was appointed vice-president.
 The new vote will be a litmus test on the appetite for more of Chavez's Bolivarian revolution and Venezuelan model of socialism. In the October elections, Capriles' losing margin was the highest showing by the opposition against Chavez.
You can share this story on social media: