Pipe that fumed wolf: UK police close highway over e-cigarette terror scare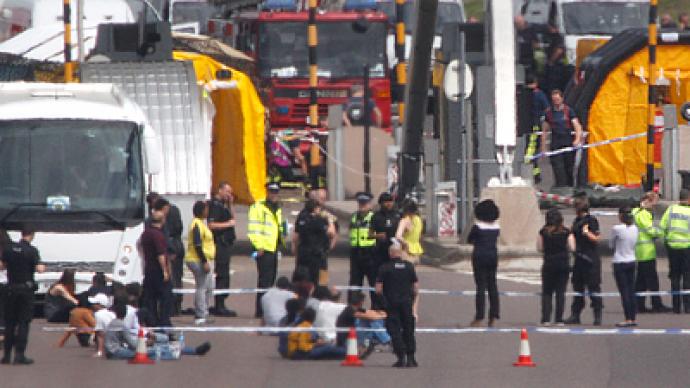 British police cordoned off sections of a major highway and evacuated a bus following reports of suspicious activity. The response turned out to be overblown when it was discovered that the cause of the panic was an innocuously fuming e-cigarette.
Passengers aboard a Megabus coach heading from Preston to London were in for quite a shock when armed police forced them to get off the bus, and had them sit in a small area on the opposite carriageway for about an hour. The passengers were then thoroughly frisked by officers in a decontamination unit. Some passengers reported being led out of the bus at gunpoint.

The bus was surrounded by bomb disposal units, ambulances, fire engines, and military personnel and police dog handlers. The M6 toll road the coach was traveling on was shut down for over five hours.  

Eventually no bombs or other terrorist devices were discovered, and no one was arrested. Officers said they were responding to a "genuine report" from a member of the public about vapor emanating from a man's bag as the bus was nearing the M6 toll plaza at Weeford in western England.

However, upon closer examination, it was determined that the vapor coming from the bag was produced by an electronic cigarette, a device frequently used by smokers trying to kick their habit gradually. Using an electronic cigarette involves pouring a special liquid consisting of water, propylene glycol, nicotine and other ingredients into the device getting it to heat up. The process produces vapor without the smell of an ordinary cigarette that many find obnoxious.

Police have apologized for any inconvenience caused by the security response, and expressed hope that the public would understand that it has a duty to ensure public safety.

"We can now confirm that, whilst this was a genuine security alert, the significant concerns reported to us were unfounded," a police spokesperson stated.

British police have been on high alert in the run-up to the London Olympics, scheduled to begin on July 27.

In a separate incident Thursday, police used smoke grenades and a stun gun to carry out a raid on a home close to London's Olympic Park, a key venue for the upcoming games. Six suspects were detained on terror charges, though Scotland Yard stressed that the operation was not linked to the Olympics.

Britain's current terror level is considered "substantial" – the third out of a possible five levels. This means that there is a strong possibility for a terrorist attack.