Police officer who started shooting massacre at supermarket doesn't repent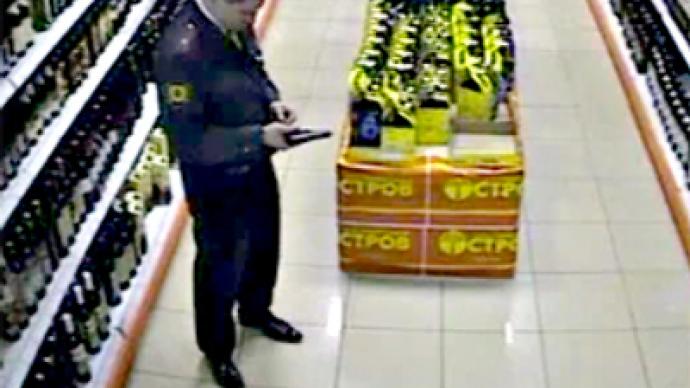 Former colleagues of Moscow police major Denis Yevsyukov say he was letting killers walk free for bribes, and doesn't repent of the shooting massacre in the supermarket.
When the police started questioning 31-year-old major Denis Yevsyukov about what pushed him to violent behavior, he calmly answered "But I don't repent at all," adding that all his corrupted bosses will follow his footsteps.
Former colleagues hardly believe that a family row was the single reason behind the violent rampage.

"He got married roughly a year after he joined the team of the department. After that he has changed a lot: he became highly strung, morose, and angry. It was obvious, there was something wrong in the family," remember colleagues in the interview with Russian Nezavisimaya newspaper.
But they all admit that Yevsyukov was too clear-minded to lose control purely because of the family dispute.
Former colleagues say what was likely the reason for the massacre is that just a week before the incident, the chief of the Tsaritsyno department Viktor Ageev, and his deputy Oleg Baryshnikov filed their resignations. Both were allegedly patrons of Yevsyukov in the department closing its eyes on his illegal deeds, and the colleagues say that Yevsyukov apparently got scared of losing his position.
Gloomy career
Yevsyukov was never socializing with the team, remembers Marina Chub, senior police officer. He never drank a lot, as some media was reporting right after the supermarket shooting, and was always close to bosses, says another senior police officer, Andrey Romanov. He wasn't a good investigator, but was an excellent informer, recalls Romanov.
After joining the department in 1999, Yevsyukov's career blasted off, and by the year 2004 he was sitting in the chair of the chief of the investigative branch of the department.
Yevsyukov quickly acquired a taste for the new position of authority, and became an angry boss who can't stand any objections, claimed the colleagues. He was pushing the personnel to improve the crime solving rate by 'hanging' unsolved killings on hobos. After that, he started firing his employees. Marina Chub says that her position was sold to another officer for $1000. Andrey Romanov says he was sacked for 'non-attendance on a working day,' though Yevsyukov had personally approved sick-leave the day before. According to them, Yevsyukov was regularly giving cash envelopes to top department bosses.
"Why was he raging? Because we knew too much about him. We were witnessing how he was knuckling under to the chiefs, laying the table for them and giving them cash," says Romanov.
As colleagues say, two high-official patrons were supporting Yevsyukov – department chief Ageev, and his deputy Baryshnikov – and the former colleagues say they are convinced that all the positions Yevsyukov got were not for service, but for money.
It didn't happen once
The shooting at the supermarket wasn't the first time that Denis Yevsyukov attacked innocent civilians. Last year, while dining out in a Moscow restaurant, he scrapped with another visitor, and started shooting with a gas gun. The police came and took him away. According to Evsyukov's ex- colleagues, Ageev personally swept the case under the carpet.
Shortly after, Yevsyukov was appointed chief police officer of the Tsaritsyno department.
You can share this story on social media: