Indonesian police use tear gas to disperse anti-US protest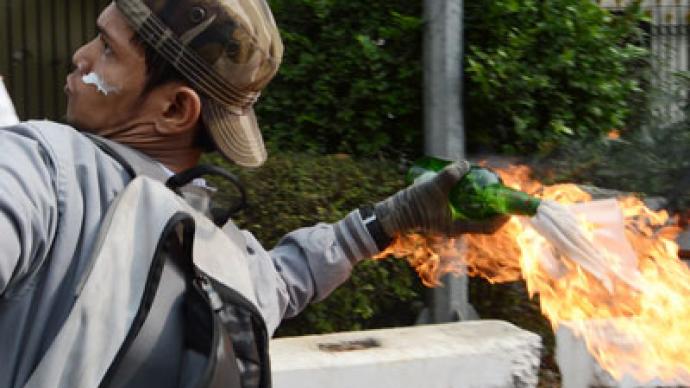 Dozens of Indonesian students clashed with police outside the US embassy in Jakarta while protesting an anti-Islamic film. Officers fired tear gas and water cannons at activists, who lobbed Molotov cocktails and burned tires near the building.
At least one police officer was injured in the clashes, and was carried to safety by other officers. Some 50 Indonesian students stomped on an American flag, and then burned it. They also carried banners with slogans like, "death to the filmmaker" and "America is a terrorist that threatens world peace.""We condemn the film that insults the Prophet Muhammad, and which is hurtful to Muslims around the world. Crush America," a protester told the crowd, prompting a chorus of "Allahu akbar! [God is great]" in response.The film, titled 'Innocence of Muslims,' portrayed Muslims as bloodthirsty and immoral, and mocked the Prophet Muhammad. The video sparked a wave of violent anti-US protests throughout the Muslim world, with activists frequently targeting American diplomatic facilities.On Sunday, Google announced that it was blocking the video on YouTube in Indonesia. The Indonesian Communications and Information Ministry claimed that the video could still be viewed online as of Monday."We understand that it takes time for Google to block everything as people continue to upload those sensitive videos. We appreciate Google's cooperation," Indonesian government spokesperson Gatot Dewa Broto told AFP.Protests broke out in Indonesia on Friday with hundreds of activists, many of whom were hardline Islamists, clashing with police.
You can share this story on social media: