Muslim fury: LIVE anti-US protest timeline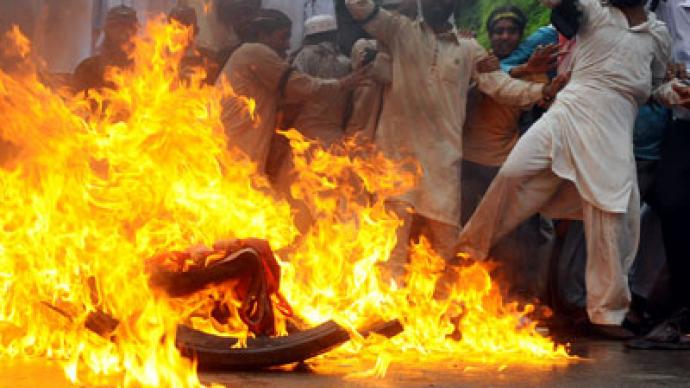 Muslims around the world are protesting against the US after clips from a controversial American-made film mocking the Prophet Mohammed appeared online. Almost 40 people have died in violent clashes triggered by the video.
Timeline continues here. 23:00 GMT: ­Egypt's highest Islamic legal official has urged Muslims to endure the insults connected with the anti-Islam film and caricatures peacefully, citing the example of Prophet Mohammed who endured all personal insults and attacks without retaliation. 19:40 GMT:  Any form of demonstration banned in the Tunisian capital Tunis on Friday. The French embassy has been closed amid fears protest and violence could get out of hand. 18:06 GMT: Germany's Interior Ministry has postponed a nationwide poster campaign, aimed at countering radical Islam, after fears it would incite violence by extremists.16:34 GMT: Thousands of angry demonstrators took to the streets in the Nigerian city of Zaria, burning US and Isreali flags during their march.15:48 GMT: Hundreds of thousands of protesters poured into the streets of the Yemeni city of Taizz on Thursday, condemning the movie that mocks the prophet and attempts to picture Islam as an oppressive religion13:12 GMT: Russia's Prosecutor General's Office has ordered access be blocked on YouTube to the controversial film Innocence of Muslims in several of the country's cities, including St. Petersburg, in the north, Moscow, and Khabarovsk, in Russia's Far East.11:03 GMT: Islamabad police are involved in massive clashes with over 1,000 protesters in Pakistan. Official Mohammed Iqbal says the protestors are mainly students. Violence erupted as the crowd attempted to march on the US embassy, but police held them back.
08:40 GMT: The US is to close its diplomatic facilities in Indonesia this coming Friday due to concerns that more anti-American rallies may take place in their vicinity. The State Department advised US citizens to avoid demonstrations in the country.08:20 GMT: Some 100 people staged a protest in front of France's embassy in Tehran. They were speaking against the publication of cartoons of the Prophet Mohammed in a French satirical weekly. The embassy was guarded by dozens of police, but was still closed as a precaution.01:29 GMT: The German city of Freiburg has allowed a protest demonstration to be held against a film insulting the Prophet Mohammed, the founder of Islam. The event is scheduled to take place on Friday, September 21. It is to be the first rally of this kind sanctioned in Germany.­00:00 GMT: Despite objection from NYC transit officials, ads comparing Jihad with savagery are due to appear next week in 10 New York City subway stations. The ad will read: "In any war between the civilized man and the savage, support the civilized man. Support Israel/Defeat Jihad."
23:00 GMT: The actress who starred in the "Innocense of Muslims" film is suing producer Nakoula Basseley Nakoula for fraud and slander and is asking a judge to order YouTube take down the clip, AP reports. Cindy Lee Garcia filed a lawsuit claiming she was duped by the filmmaker and was unaware of the film's anti-Muslim content.­21:00 GMT:UN Secretary-General Ban Ki-moon said the creator of the "Innocence of Muslims" abused his right to freedom of expression and called the movie a "disgraceful and shameful act."­17:31 GMT: The assault on the US diplomatic mission in Benghazi, Libya, in which four Americans died last week, was a "terrorist attack", Matthew Olsen, director of the National Counterterrorism Center, said during a Senate hearing Wednesday. The attack might have had Al-Qaeda links, though a "number of different elements" were involved, he said.15:03 GMT: Sudan blocks YouTube over the controversial video until the hosting service deletes the "Innocence of Muslims" film from its website.14:12 GMT: Thousands of Lebanese protesters have gathered in the Southern city of Tyre to demonstrate against the US-produced film The Innocence of Muslims that has incited unrest around the world. The protest is in response to calls from Hezbollah leader Sheikh Hassan Nasrallah to demonstrate against the anti-Islam film.13:02 GMT: French schools in Tunisia are closing for the rest of the week due to security concerns after Charlie Hebdo published a cartoon of the Prophet Mohammed. The measure is preventative, no threats had been received, the French embassy in the country say. 12:30 GMT: Muslim leaders have slammed Charlie Hebdo, the French satirical weekly, for publishing nude depictions of the prophet Mohammed in its latest edition. "We reject and condemn the French cartoons that dishonor the Prophet and we condemn any action that defames the sacred according to people's beliefs," Reuters quotes Essam Erian, the acting head of Egypt's Muslim Brotherhood's Freedom and Justice Party, as saying. Mahmoud Ghozlan, the Muslim Brotherhood spokesman, welcomed criticism leveled at the cartoon by France's government, but said French law should treat insults against Islam as it deals with Holocaust denial.12:20 GMT: Several notable Arab-Israel political and religious leaders have filed a petition with the Jerusalem District Court demanding that Google remove Innocence of Muslims from YouTube, the Jerusalem Post reports. Taleb a-Sanaa, the longest serving Arab member of the Israeli Knesset, various Arab-Israeli –mayors and religious figures also seek to prevent further promotion of the film and completely block its access in Israel. 10:51 GMT: The Islamic Republic of Pakistan has declared Friday, September 21 a national holiday to express its protest over the US-made film Innocence of Muslims, television channel Al-Arabiya reports. The federal government invited its citizens to join in a nationwide peaceful protest against the video, which they say insults the Prophet Mohammed.10:38 GMT: France announced it would close embassies and schools in around 20 countries, fearing backlash triggered by the cartoon that satirize the Prophet Mohammed.Earlier the French PM Jean-Marc Ayrault spoke out in support of the publication of the caricatures, saying that France "is a country where freedom of expression is guaranteed.""If people really feel that their sensibilities have been offended and think there is enough evidence, they can refer the matter to the courts," said Ayrault, adding that France is a "secular state."07:31 GMT: Protests against the film Innocence of Muslims will be forbidden in the center of Paris. French Prime Minister Jean-Marc Ayrault announced on Wednesday that "We received an official request to hold a demonstration and it was denied. There is no reason to allow conflicts to occur in our country that have no relationship to France." The announcement coincides with the publication of the latest edition of the French satirical magazine "Charlie Hebdo", which has promised to run caricatures of the Prophet Mohammed in its Wednesday release. Any representation of Mohammed is forbidden under Islamic law and considered offensive. Security has been increased at the magazine's offices.07:13 GMT: Police clashed with enraged protesters in Pakistan's commercial hub, Karachi, for the third consecutive day of anti-US demonstrations in the country. At different points throughout the city around 2,000 Muslim activists clashed with police and blocked roads with burning tires. They yelled anti-US slogans and burned the US flag and an effigy of President Barack Obama. Police in riot gear blocked activists from arrived at the US consulate in the center of the city.
05:32 GMT: The government of Kyrgyzstan has decided to block online access to the anti-Muslim film at the heart of the worldwide Muslim protests. "The Prosecutor General's Office, in connection with the distribution and screening of the particular film on YouTube which has provoked catastrophic protests in various Islamic nations and invited mass unrest…has concluded that the film Innocence of Muslims contains elements of propaganda inciting inter-religious hatred, and for that reason will be forbidden for distribution in Kyrgyz cyberspace," the Prosector General's office said in a press release. The government has ordered all state-run telecommunication agencies to block access to the film over the internet within Kyrgyz territory. 00:00 GMT: YouTube blocks access to the "Innocence of Muslims" in Saudi Arabia. ­Tuesday, September 18th18:58 GMT: Saudi Arabia threatens to block YouTube over the anti-Islam film, reports Al-Arabiya.18:43 GMT: A French satirical magazine is to release an issue with Prophet Muhammad cartoons, reports Le Monde. Charlie Hebdo, the headquarters of which were firebombed previous year for a magazine guest-edited by "Muhammad", the Islamic Prophet, is set to cause controversy Wednesday. The stunt has already been condemned by France's Foreign Minister, Laurent Fabius, as provocative.
17:01 GMT: Germany's Foreign Ministry condemns plans by a far-right group to show a film mocking the Prophet Mohammad. "Those perpetrating the violence in Arab countries represent their people as little as these far-right activists represent Germany," says Foreign Minister Guido Westerwelle.15:03 GMT: Egypt issues arrest warrants for Florida-based Pastor Terry Jones and seven Egyptian Coptic Christians on charges linked to the anti-Islamic film "Innocence of Muslims" which incited riots across the Muslim World.
13:01 GMT: Al-Qaeda's branch in North Africa calls for attacks on US diplomats and an escalation of protests against the video mocking Prophet Muhammad. Praising the killing of American diplomats in Libya, Al-Qaeda in the Land of the Islamic Maghreb has threatened attacks in Algeria, Tunisia, Morocco and Mauritania. Similar calls have been recently issued by Yemen-based al-Qaeda in the Arabian Peninsula.
12:08 GMT: Over 300 demonstrators gathered outside the US embassy in Bangkok to protest the infamous anti-Islam video. Activists carried banners and chanted "We love Prophet Mohammed." Three hundred police were drafted in as a safety precaution but the demonstration broke up peacefully after a couple of hours.10:56 GMT:The northwestern region of Kashmir in India has effectively shut down as a result of protests against the US produced anti-Islam video. Residents of the region's largest city Srinagar clashed violently with government troops on Tuesday who used teargas and batons to disperse them. Protesters marched through the city shouting anti-US slogans and burnt the American flag and an effigy of President Barack Obama.
07:40 GMT: The Bangladeshi government has blocked YouTube to prevent people from seeing the controversial anti-Islam video produced in the U.S.07:37 GMT: The US diplomatic mission in Cairo were "fully aware" of the possibility of violent backlash sparked by the release of an anti-Islam film. A US cable warned that the video had been translated and was being disseminated through social media a day before the riots began, said a US official on condition of anonymity.Monday, September 1720:20 GMT: People are leaving the Hezbollah rally, where party leader Hassan Nasrallah made an unexpected appearance, RT's Lucy Kafanov reports from Beirut.­17:30 GMT: A Tunisian radical Salafist leader has escaped from a mosque surrounded by security forces seeking to arrest him, Reuters reports. Saif-Allah Benahssine, leader of the Tunisian branch of the hardline Islamist Ansar al-Sharia, slipped away after hundreds of his followers stormed out of al-Fatah mosque in Tunis.17:21 GMT: Russian prosecutors have qualified the video clip as extremist. A full ban on the film throughout the country will be sought.17:03 GMT: The United Arab Emirates' telecommunication regulator says it has blocked access to the "Innocence of Muslims" video and urges users to report any existing links. 16:29 GMT: Pakistan's prime minister has ordered YouTube's suspension in the country over the "blasphemous" anti-Islam film.16:10 GMT: Amid the mass protests, US diplomats in Beirut are burning classified documents, reports the Associated Press quoting own sources.15:28 GMT: Hezbollah chief Hassan Nasrallah is calling for unity in the face of "the worst-ever" insult to Islam. He urges the UN to criminilize insults to the world's three religions: Islam, Christianity and Judaism.
15:02 GMT: Hezbollah chief Hassan Nasrallah is addressing the rally in Beirut.14:44 GMT: The rally in Beirut is split into two columns since women are marching separately from men. Some are holding portraits of Syria's President Bashar Al-Assad.14:42 GMT: Thousands are rallying in Beirut, Lebanon, after Hezbollah chief Hassan Nasrallah called for widespread protests against the anti-Muslim video. Follow RT's Lucy Kafanov for more details: twitter.com/LucyKafanov13:41 GMT: Some 100 Americans have left Tunisia since violent protests against the movie 'Innocence of Muslims' broke out last week. The orders to evacuate were given on Sunday.13:32 GMT: Russian authorities are considering whether the film 'Innocence of Muslims' qualifies as extremist hate speech, and would therefore be banned. Germany is also weighing banning the video.13:27 GMT: The US announced it will close its embassy in Bangkok, Thailand, in response to a planned mass protest against the American-made anti-Islamic film. The rally is set for Tuesday.13:14 GMT: Up to 3,000 university students, teachers and employees marched in Peshawar, Pakistan, on Monday. In Upper Dir, a northwestern district of the country, 22 protesters were arrested after government offices were attacked, police said.13:13 GMT: A rally in the Pakistani city of Karachi has turned violent, with police firing tear gas at protesters. One demonstrator has reportedly been shot in the head by police. 12:48 GMT: A protester was shot and killed and two others were injured on Monday in northwest Pakistan, as some 800 people rallied in the town of Warai. Demonstrators torched a magistrate's house and the local press club before police fired at the crowd.12:03 GMT: Anti-US protests gripped Pakistan on Monday. In demonstrations throughout the country, protesters called for a ban on the anti-Islamic film 'Innocence of Muslims,' and burned US flags and pictures of President Barack Obama.11:21 GMT: Over 2,000 protesters burn US and Israeli flags in the southern Philippines city of Marawi.10:58 GMT: Hundreds of students call for the expulsion of the US ambassador in Yemen's capital Sanaa, reports AFP.10:47 GMT: A sit-in was staged in Ramallah, gathering scores of Palestinians.
09:40 GMT: Hundreds of demonstrators gathered outside the US embassy in Jakarta, Indonesia, to protest the film 'Innocence of Muslims.' Police officers fired tear gas and water cannons to disperse the crowd, Reuters said. One police officer was reportedly injured when demonstrators threw stones, and protestors were also witnessed burning an American flag.
07:18 GMT: Hundreds of Afghans turn out for a violent protest in Kabul near US and NATO army bases on Monday. Cars, tires, and storage containers were set on fire, and Afghan police fired warning shots into the air to disperse the demonstrators. Some 40-50 police officers were reportedly injured in the violence.Sunday, September 1618:02 GMT: Hezbollah chief, Sheikh Hassan Nasrallah, calls for rallies across Lebanon starting Monday to protest 'The Innocence of Muslims' film.17:14 GMT: Bangladeshi Prime Minister Sheikh Hasina urges Washington to immediately ban the controversial video and prosecute its authors, reports the Hindu Times.16:32 GMT: France is banning any further demonstrations over the film 'The Innocence of Muslims.' "These protests are forbidden. Any incitement to hatred must be fought with the greatest firmness," France's Interior Minister Manuel Valls told France 2 television Sunday. The instructions come a day after police detained some 150 people for taking part in an impromptu protest near the US Embassy in Paris.16:08 GMT: In Copenhagen, roughly a thousand demonstrators have gathered in front of the US embassy to slam "the insults to Prophet Muhammad." Like in London, most of the participants are members of the Sunni Islamic group Hizb ut-Tahrir. Several people have been detained after clashes with police, report local media.15:41 GMT: Germany bars notorious pastor Terry Jones from entering the country, citing security concerns. The Florida clergyman, known for his Koran-burning activities, has promoted 'The Innocence of Muslims.'14:47 GMT: Some 300 people shout slogans outside the US Embassy in London. Many demonstrators have come to slam the scandal-stirring clip, but there are also placards against the US in general, reading "America, get out of Muslim lands."
14:39 GMT: Malaysia asks Google to block access to the 'Innocence of Muslims' video. Malaysian authorities are requesting that the video, which many Muslims find insulting to their religion, be removed from YouTube because of the "explosive commotions and repercussions at hand," Information Minister Rais Yatim says. The clip has already been blocked in Egypt, Libya, India and Indonesia.14:30 GMT: One person was reportedly killed in clashes between police and protesters near the US consulate in Karachi.
13:55 GMT: The US consulate in Karachi, Pakistan's largest city, was attacked by a crowd of anti-US protesters rallying against the controversial anti-Islam film 'Innocence of Muslims.' Police and protesters clashed outside the consulate, and demonstrators torched a nearby police station, witnesses said. Six protesters were reportedly injured in the violence. The protest in Karachi is the latest in a spate of anti-US protests throughout the Muslim world sparked by the inflammatory film.12:03 GMT: Iran's military brass say the outrage against the anti-Islamic film cannot justify the killing of Chris Stevens, the US Ambassador to Libya, and three other Americans, last Tuesday. "Definitely this did not warrant killing," Iran's Revolutionary Guards commander Gen. Mohammad Ali Jafari told a news conference in Tehran. He added the incident happened "due to their anger [of protesters]."01:27 GMT: Several Egyptian demonstrators have confessed that they were paid to protest near the US Embassy in Cairo, the Middle East News Agency cites Prime Minister Hesham Kandil as saying.Saturday, September 1523:57 GMT: Around 120 people have been detained in Antwerp, Belgium, local police said.
22:09 GMT: Foreigners were involved in the attack on the US Consulate in Benghazi that killed thre US Ambassador to Libya and three diplomatic staff, Libyan President Mohamed Magariaf told NBC. "We have assumptions and we have some information, and all that information we have now leads to the same direction about the perpetrators, the criminals," he said.21:15 GMT: US State Department has ordered all non-essential staff along with their family members to leave its embassies in Sudan and Tunisia.20:21 GMT: Dozens of protesters have been detained for "identity checks" after they staged a protest near the US Embassy in Paris on Saturday, officials say.16:15 GMT: Demonstrators arrested during anti-US in the Belgian city of Antwerp.15:54 GMT: Sudan rejects US request to send marines team to protect the American embassy in Khartoum, says SUNA news agency. 15:35 GMT: FBI investigators put off visit to Libya until conditions in the region are safer.15:23 GMT: According to Egypt's Interior Ministry, 142 protesters have been detained and 99 police officers injured.15:21 GMT: Agents from the Federal Bureau of Investigation are expected to arrive in Libya to investigate attack that killed the US ambassador and three other Americans.14:41 GMT: Al Qaeda says attack on US consulate in Libya "revenge" for the death of its 2nd man.12:16 GMT: Al Qaeda in Yemen has called on Muslims to "kill US diplomats" over the scandalous anti-Islam film. 11:38 GMT: The film's original casting call lists softcore porn director Alan Roberts as the movie-maker. 10:53 GMT: Nakoula Basseley Nakoula, who was originally believed to have directed the controversial 'Innocence of Muslims' movie, has turned out to be producer, not the director. 08:50 GMT: Lebanese soldiers were deployed to guard a Burger King restaurant in the country, AFP reported.08:05 GMT: The filmmaker allegedly responsible for the anti-Muslim film 'Innocence of Muslims,' which sparked anti-US protests around world, was called in by police for questioning in Los Angeles.08:00 GMT: Al-Qaeda calls for targeted killing of US diplomats over film. The Yemeni-based branch encouraged Muslims to step up protests and kill more of US diplomats. 05:51GMT: Police in Sydney, Australia, fired tear gas at protesters staging a demonstration against the anti-Islam film that has sparked mass public outrage across the Arab world. AFP reported hundreds of demonstrators threw projectiles at officers outside the US consulate in the city, shouting "Down, down USA".
00:40 GMT: The UN has temporarily evacuated its expatriate staff from Benghazi to Tripoli for security reasons. Radhia Achouri, a spokesperson for the UN Support Mission in Libya, said the mission's Benghazi office would be run by local staff until the situation in the city improved.Friday, September 1423:30 GMT: Nakoula Basseley Nakoula, identified as the producer of the film that has sparked outrage and violent protests across the Muslim world, is now being investigated by the State of California for violating his probation in connection with his role in making the video. Nakoula Basseley Nakoula pleaded guilty to bank fraud in 2010, and his probation terms forbid him from assuming aliases or accessing the internet without the permission of his probation officer.23:07 GMT: US Vice President Joe Biden has called his Sudanese counterpart to express concern for the US embassy and other foreign diplomatic missions in Khartoum. "Vice President Biden reaffirmed the responsibility of the government of Sudan to protect diplomatic facilities and stressed the need for the Government of Sudan to ensure the protection of diplomats in Khartoum," the White House said in a statement.22:35 GMT: The US is sending a team of Marines to Khartoum, Sudan to defend its facilities there. US officials say that similar teams are going to Yemen and Libya.
22:07 GMT: Google has rejected the White House's request to pull the 'Innocence of Muslims' video from its YouTube service. Earlier on Friday the Obama administration had requested that Google 'review' the video again to make sure it did not violate YouTube's terms of service. Google will continue to restrict access to the film in India, Indonesia, Libya, and Egypt, all countries where the film is illegal. 21:50 GMT: Two US soldiers have been killed in a 'complex' attack at US army base Camp Bastion in Southern Afghanistan. The Taliban is suspected, but it is not yet known whether or not there is any direct relation to the world embassy protests. 21:31 GMT: The Egyptian state news agency reported 27 people were injured in Friday's protests, also saying that at least 250 people have been injured in Egypt alone since the start of the protests on Wednesday.21:26 GMT: CNN has reported that Tunisian soldiers are providing assistance to US marines defending the American Embassy in Tunis.20:38 GMT: RT's Paula Slier continues her live twitter updates from Cairo: "Protests show no sign of dying – 100s of youngsters here, some holding torch lights, surging towards the police and then running back"20:31GMT: RT's Paula Slier tweets from Cairo: "Young protestors seem well organized – all with surgical masks, screaming commands at each other; sense they're proud to be here"19:42 GMT: RT's Paula Slier tweets from Cairo: "Feels like scene out of movie – heavy tear gas hanging over darkened streets; tyres burning; police sealed off ; youngsters throwing rock"
19:29 GMT: Street outside the US embassy in Cairo ablaze as clashes between rioters and police continue.
19:25 GMT: An Egyptian protester has been killed in clashes with police near the US Embassy in Cairo, according to AP. 19:16 GMT: Security forces manage to expel the demonstrators from inside the US embassy compound in Tunis.18:56 GMT: About 2,000 people protested in Amman, Jordan, burning US flags in front of the American embassy. 18:48 GMT: Demonstrators in the Mauritanian capital of Nouakchott have held a rally in front of the US embassy; some sources claim the protest turned violent. 18:01 GMT: Police in Cairo have erected a concrete wall around the US embassy and blocked nearby roads with barbed wire.
17:56 GMT: Egypt's Bedouins broke through a fence of the Multinational Force and Observers (MFO) compound in the Sinai and set fire to an observation tower, in which two Colombians and and Egyptian were injured.17:39 GMT: Tunisia's State TV says 3 dead, 28 injured in US Embassy protest. 17:33 GMT: White House asks YouTube to review whether anti-Muslim film violates terms of service.17:01 GMT: Egypt Bedouin storm peacekeeper camp in The Sinai over anti-Islam film. 16:54 GMT: Three protesters killed and 28 injured as protests outside the US embassy in Tunis continue. 16:26 GMT: Protests outside the US embassy in Cairo have entered their third day.
16:15 GMT: Angry demonstrators are protesting against the controversial 'Innocence of Muslims' film in at least 20 countries.
­16:15 GMT: Obama orders security review for all US diplomatic facilities worldwide. 15:52 GMT: Spokesperson for US Embassy in Sudan says all protesters 'expelled' from inside embassy compound in Khartoum.15:49 GMT: Al Jazeera Arabic has confirmed the death of 3 protesters outside the US embassy in Khartoum, saying they were run over by Sudanese police vehicles.15:47 GMT: According to ONA news agency, one person has been killed in the clashes outside the US embassy in Cairo. 15:34 GMT: Nigerian troops fire shots near a mosque in the city of Jos to disperse protesters.15:32 GMT: Hundreds protest outside the US embassy in London. 15:23 GMT: Protesters have set fire to an American school in Tunis.  15:19 GMT: Eighty six protesters have been detained during an anti-US rally in India.15:16 GMT: Pentagon spokesman George Little tells reporters that a 50-strong "FAST platoon is now on the ground in Sanaa." 14:58 GMT: US drones flying over Benghazi, causing airport to shut down.  14:47 GMT: At least 5 protesters wounded by police gunfire near US embassy in Tunis, large fire inside embassy compound. 14:45 GMT: Sources on the ground report protesters have now entered the US embassy in Suda. The demonstrators were bussed there from the UK and German embassies.
14:40 GMT: Thousands of Palestinians burn US and Israeli flags in Gaza, while chanting "Death, death to America, death, death to Israel."14:37 GMT: Reporters on the ground say gunfire heard outside the US compound in the Sudanese capital Khartoum 14:35 GMT: Tear gas fired at Tunisian protesters.14:27 GMT: One Sudanese protester has been killed near the US embassy in Khartoum, according to local medics.14:25 GMT: Protesters set fire to trees, smash windows of the US compound in Tunis. 14:24 GMT: Officials say US is sending Marine team to Yemen to deal with aftermath of embassy attack.14:21 GMT: Gunfire is heard outside the US embassy in the Tunisian capital of Tunis.14:20 GMT: Angry demonstrators are burning US flags in Bahrain.14:18 GMT: Protesters have scaled the wall into US embassy in Tunis, according to Reuters witnesses.13:43 GMT: Tear gas being used on thousands trying to strom the US embassy in the Sudanese capital, Khartoum. 13:28 GMT: Sudanese police are reportedly using tear gas on protesters attempting to storm the British and German embassies. 13:22 GMT: An eye witness tells Reuters there are cars and buses with Sudanese protesters moving towards the US embassy. 13:04 GMT: Lebanese news portal Naharnet reports that 1 person has died and 25 have been injured as protesters attempted to storm a government building. The protesters have now been repelled.12:51 GMT: British Foreign Office confirms that its embassy in Sudan is also surrounded by protesters.12:21 GMT: Protesters in Sudan pulled down the emblem of Germany's embassy and raised an Islamic flag in its place, witnesses reported.12:14 GMT: Protesters breach German embassy building in Sudan, Reuters reports.12:12 GMT: Sudanese police fire tear gas to disperse protesters attempting to storm German and UK embassies in Khartoum.11:45 GMT: Demonstrators in Tripoli, Lebanon, reportedly torched a KFC restaurant in protest against the anti-Islamic film, RT's Lucy Kafanov reported on Twitter.
11:04 GMT: Tensions are mounting in the Yemeni capital, with police using warning shots, water cannons and tear gas to push back protesters. Demonstrators were prevented from reaching the US embassy, and no casualties were reported, Yemeni spokesperson Mohammed Albasha said on Twitter. 10:48 GMT: Protesters in Ningrahar, Afghanistan, burned a US flag and an effigy of President Obama wearing a red T-shirt and holding a $1 bill.10:46 GMT: Hundreds are gathering in Dona, Qatar, to protest an anti-Muslim movie reportedly directed by an American filmmaker.
10:41 GMT: The no-fly zone over Benghazi was lifted, Euronews reports, quoting a Libyan airport manager. 09:56 GMT: Egyptian President Mohammed Morsi is calling for Muslims in the country to protect foreign embassies.
09:41 GMT: A small demonstration is being held outside the US embassy in Kuala Lumpur, Malaysia. 09:27 GMT: Tensions remain high in Cairo, Egypt, with police making extensive use of tear gas in retaliation against stone-throwing protesters. Armored vehicles are pushing the crowd back as police fire rubber bullets at demonstrators.
09:25 GMT: In Sanaa, counterterrorism units and humvees are being mobilized ahead of planned anti-US protests, Mohammed Albasha, spokesperson for the Yemeni embassy in Washington, D.C., wrote on Twitter. Four water cannon trucks and seven platoons of riot police will be deployed, along with a commando unit, eight armored vehicles, and a squad of military police. Police and protesters clashed for seven hours in the Yemeni capital on Thursday. 08:53 GMT: A 48-hour no-fly zone has been imposed in Benghazi, Libya, following attacks on the city's US consulate that killed the American ambassador and three embassy staffers. All flights to and from the city have been suspended. 08:43 GMT: As clashes continue, some 100 protesters fled the scene amid arrests, Cairo-based journalist Bel Trew reports on Twitter.08:15 GMT: Germany increased security at its diplomatic facilities in North Africa, Afghanistan and Pakistan, a representative of the country's Ministry of Foreign Affairs said. 08:14 GMT: Armored vehicles are being deployed near the embassy in Cairo.07:46 GMT: Libya suspended all air traffic in Benghazi for security reasons, Al-Arabiya quoted airport sources as saying. 07:44 GMT: On Twitter, witnesses reported seeing protesters chased by riot police, with the demonstrators brandishing metal poles. Barbed wire was also placed on the roads near the embassy.07:27 GMT: Cairo police are erecting a wall of concrete blocks around the US embassy in an attempt to prevent protesters from entering the compound.
06:47 GMT: Authorities in Libya arrested four men connected to the attack on the US consulate in Benghazi, in which the US ambassador to the country and three staffers were killed. 06:35 GMT: Governmental Islamic scholars in Sudan are calling for a mass rally over the anti-Muslim film following Friday prayers, Reuters reports.06:27 GMT: Indonesia is putting 250 riot police officers on high alert ahead of planned anti-US rallies in Jakarta.06:23 GMT: Near the US embassy in Cairo, protesters are throwing stones at police officers, who are attempting to force back and disperse the demonstration. Members of the crowd are waving banners and flags, and shouting slogans. Security forces reportedly used tear gas on the protesters.
06:03 GMT: Demonstrators in Cairo, Egypt, are massing outside the US embassy for a fourth day of protest.
02:20 GMT: US Secretary of State Hillary Rodham Clinton has condemned the violence that's unfolded "in a number of countries" over the "video circulating on the Internet." The US government "had absolutely nothing to do with this video. We absolutely reject its content and message," she said, adding that there is "no justification, none at all, for responding to this video with violence."Thursday, September 1323:55 GMT: The two Marines killed in the attack on the US Consulate in Benghazi were identified as former Navy SEAL commandos Glen Doherty and Tyrone Woods. They had been working as security officers.22:13 GMT: Iranians joined public discontent over the film denigrating Muhammad on Thursday by rallying near the Swiss Embassy in Tehran, which represents American interests in the country.
21:02 GMT: Obama thanks Yemen President for condemnation of embassy attack, stresses the need to protect US diplomats20:48 GMT: Libya declares pro-Sharia group reportedly behind the violence in the US consulate in Benghazi 'outlaws'. 20:25 GMT: The US Embassy in The Hague posted a tribute to "treasured colleague and friend Sean Smith," the American diplomat killed in an attack on the US Consulate in Benghazi.20:21 GMT: US and Israeli flags burned during protests in Lebanon. 20:14 GMT: Protests begin outside the US embassy in Oman capital, Muscat. 20:00 GMT: At least 4 protesters have been killed in clashes outside US Embassy in Sana'a,  Yemen, CNN reports, citing security officials19:23 GMT: Clashes between protesters and riot police outside the American embassy in Cairo continue; angry demonstrators hurl rocks at the officers, who retaliate with tear gas grenades. 18:51 GMT: Protesters still gathered outside the US embassy in the Egyptian capital Cairo. Smoke and fire can be see amidst the crowds.
17:11 GMT: White House says it is doing everything possible to protect US diplomats in Yemen, all embassy personnel safe at the moment.16:48 GMT: Muscovites bring flowers to US embassy in the Russian capital, paying their respects to Ambassador Christopher Stevens and three other American diplomats killed in the attack in Libya.
16:11 GMT: The Egyptian Health Ministry says the number of people injured in clashes outside the US embassy in Cairo has risen to 224. 16:00 GMT: The Libyan prime minister says the first suspects have been arrested in the US embassy attack in Benghazi and that more arrests are under way. 15:49 GMT: Egyptian President Mohammed Morsi condemns attack in Libya and vows to protect foreign embassies in Cairo.
15:39 GMT: A Shia militant group threatens US interests in Iraq as part of the backlash over an anti-Islam film it describes as "heinous."15:36 GMT: Libya's deputy interior minister Wanis al-Sharef says the attack that killed four Americans in Libya was an organized two-part operation by heavily armed militants that included a timed raid on a secret safe house just as Libyan and US security forces were arriving to evacuate consulate staff. He says the attacks were suspected to have been timed to mark the 9/11 anniversary and that militants used civilians protesting an anti-Islam film to cover for their actions. The official said there may be a "spy" within the security forces since militants knew the safe house's location. 15:30 GMT: German police say they found no suspicious substances after evacuating part of the US consulate in Berlin. The building was evacuated on Thursday as a safety precaution, when an employee experienced breathing difficulties after handling a passport.15:14 GMT: The FBI has opened an investigation into the deaths of US ambassador Chris Stevens and three others killed in the attack on the US consulate in Libya, according to Attorney General Eric Holder.15:06 GMT: Israeli Arab official Talab el-Sana warns of "Armageddon" if the United Nations does not intervene in the US embassy protests. The statement was made after dozens of Arab-Israeli protesters demonstrated outside the US embassy in Tel Aviv.
14:58 GMT: American diplomats injured in attack on embassy in Libya are undergoing treatment in Germany. The most seriously injured are expected to leave the ICU shortly. 14:43 GMT: Saudi Arabia condemns both the anti-Islam film and the violent reactions to it, aimed at US embassies. 14:41 GMT: Sporadic shooting reported near the US embassy in Yemeni capital, Sana'a. Residents near the embassy complain of being suffocated by tear gas.
14:28 GMT: Secretary of State Clinton calls anti-Muslim video "disgusting" and reprehensible, says US government rejects its content and message.
U.S. Secretary of State Hillary Clinton delivers remarks at the State Department in Washington September 12, 2012, on the deaths of U.S. embassy staff in Benghazi.(Reuters/Gary Cameron)14:26 GMT: US law enforcement says Nakoula Basseley Nakoula, man who claimed to be a consultant on the anti-Muslim movie blamed for violence, is in fact the movie's director.  14:18 GMT: Canadian embassy in Cairo closed on Thursday as a precaution following unrest outside the US embassy. 14:11 GMT: India likely to ban controversial 'Innocence of Muslims' film as anti-US protests spread. 14:10 GMT: 70 people have been injured in clashes outside the US embassy in the Egyptian capital, according to the country's Health Ministry. 14:07 GMT: Police fire tear gas at crowds of demonstrators outside the US embassy in Cairo. Protesters continue to taunt the officers by throwing sticks and stones at police vehicles. 13:58 GMT: Clashes between protesters and riot police continue outside the US embassy in Cairo. The streets are filled with smoke, and burning cars can be seen in the distance.
13:51 GMT: Protesters reportedly attack US embassies in Morocco and Sudan. 13:43 GMT: Protests condemning  the offensive film were also held in the Afghan cities of Kandahar and Kundoz. Religious leaders, scholars and citizens all denouced the movie, and appealed to the US authorities to prevent the sale, release and broadcasting of the film and bring those involved to justice.13:41 GMT: Meanwhile, access to video-sharing server YouTube is still blocked in Afghanistan as authorities fear the controversial 'Innocence of Muslims' film, which was posted there, will spark violence in the country. 13:30 GMT: Thousands of protesters in Bangladesh try to storm the US embassy in the capital, Dhaka. Security around the compound has been tightened, and riot police is stationed outside. 13:23 GMT: Riot police in Cairo push back protesters, mix of tear gas and smoke fills up the streets in front of the US embassy. ­13:18 GMT: Thousands continue to throw Molotov cocktails at riot police protecting the US embassy in the Egyptian capital, Cairo.
You can share this story on social media: