Police arrest 400 "Blockupy" activists as tensions rise in Frankfurt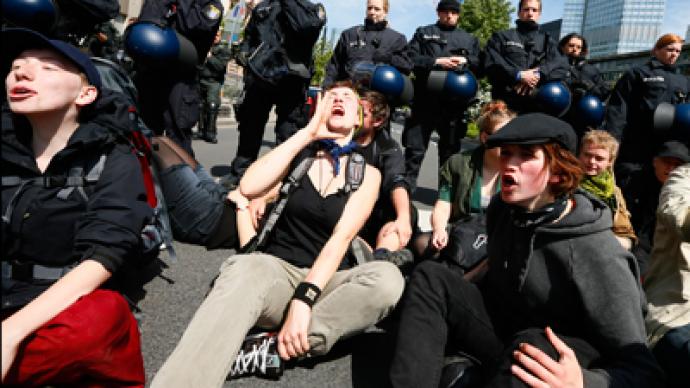 Frankfurt police have detained 400 anti-capitalist protesters ahead of a key conference on monetary policy scheduled for the weekend. With thousands more heading into the city in the coming hours, new clashes are expected.
Authorities say anti-capitalists were erecting barricades, vandalizing road signs and blocking traffic at various locations across the city.Frankfurt – Germany's financial capital – is home to the European Central Bank (ECB). As the eurozone faces a deepening of the economic crisis following fears that Greece can no longer remain part of the currency bloc, policymakers from EU member states have arrived in the city for two days of intense talks.Meanwhile, up to 30,000 protesters are expected to make their way into the Frankfurt over the weekend.Their chief demand is an end to austerity – cuts in government spending, often made by sovereign governments in exchange for offers of loans from the EU – which activists say is leading to "Europe-wide impoverishment."In homage to the Occupy Wall Street protests last year, the movement labels itself "Blockupy."An anti-capitalist camp outside the ECB building that had been open since October last year was cleared on Wednesday. Instead, police have erected high barriers, though they say the camp can be rebuilt next week.But with the mass presence of dissenters, it is unlikely that the eurocrats will be able to avoid confrontation altogether.In a series of preventative measures, ECB officials have been told to avoid wearing suits, and to work from home if possible. Reserve locations have been set up for meetings, and the retirement party of key board member has been moved from an upmarket hotel to a secret location outside the city.Five thousand police officers will be deployed to maintain order over the weekend.
A Blockupy activist Thomas Drillich told RT that the protesters had not broken any laws on Friday ,but instead are fighting against the breaking of the laws by the government. "We are fighting for our right to demonstrate for the free speech of all Germans."
You can share this story on social media: